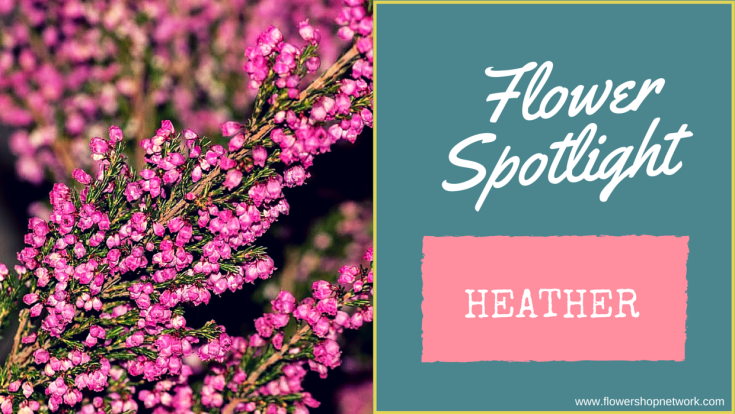 Summer is here and so are this season's flowers! Heather is a beautiful and versatile evergreen shrub whose blooms look great in any arrangement. Here is a brief history about this lovely plant.
Origins and Symbolism
Colluna vulgaris, better known as Heather, is native to Scotland, Ireland, Scandinavia, Russia, and northern North America. In Scotland, however, Heather is one of the national flowers, growing across an estimate of five million acres of moorland and hills. Legend has it that Heather only grows on land where blood hasn't been shed.
Heather is the flower of unbridled passion and protection. White Calluna is a symbol of luck and known to be very effective. Often it is said that Heather opens portals to the faery world and that Fae of this flower are attracted mostly to shy people.
Medicinal Properties
Heather isn't just beautiful to the eye, but a very effective herbal medicine too! Here are some of its benefits:
Add the flowering tips to a bath to tone muscles and soothe rheumatic pain.
Heather has antiseptic and diuretic properties.
Treats nervousness and anxiety, cardiac palpitations, migraines, digestive issues, poisoning, blindness, arthritis, coughs and problems associated with menstruation.
Because of the diuretic properties, it serves as an internal cleanser and detoxifier.
Availability
Heather blooms in pink, white, lavender, magenta, purple, amethyst, red and many shades of green. Tones of copper, gold and silvery gray are not too common, but are also available. This shrub gives a boost of color to any wedding centerpiece. White Heather is commonly used by brides on their bouquets as a token for good luck.
Heather is one of those plants that does a little bit of everything! Head to your local florist and fall in love with the beautiful tiny blooms on this delicate plant.