The boutonniere and the pocket square have long been part of a gentleman's formal attire. Creative florists have recently began to combine the fresh-flower look of the boutonniere and the placement of the pocket squares for something new and festive!
But Honey…. do I *have* to wear a boutonniere??
The biggest complaint we hear from guys about boutonnieres is that they don't want to wear flowers that close to their face. Most men are just picky, but some have allergies that genuinely prevent them from wearing a bout'. Having flowers farther down in the pocket can be a big relief for men with this problem.
Often times the groom's boutonniere gets practically destroyed during the activities of your wedding reception. Pocket squares tend to be a little more sturdy than boutonnieres because they aren't pinned to your tuxedo. The bride is able to comfortably wrap her arms around the grooms neck without fear of crushing flowers or getting pin stuck.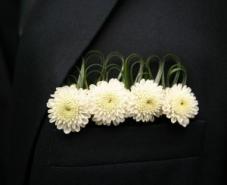 Floral Pocket Squares — Boutonniere Alternative For Proms & Homecomings
Not only will the pocket square stand up to all of the festivities of a wedding reception — just think how perfect this trend is for teens going to homecoming or prom! I don't know what it is about boys, but they love to take things apart. By the end of prom night, a guys boutonniere is often in 5 different pieces and the pin is stuck in his buddy's arm. (Hopefully not, but you get the idea.)
With the floral pocket square, there are no pins. The design is attached, usually with glue, to a long insert that fills the pocket. Prom-going teens tend to leave them alone because they are further down on their chest — out of side, out of mind. The pocket square is a great boutonniere alternative, especially for prom, homecoming and other teen events.
Replacing Boutonnieres?
A boutonniere has long been part of the fashion-forward gentlemens fashion. Although the floral pocket square is a trendy up-and-comer, you will never replace a good, old-fashion boutonniere. The key is to find the style that is right for your look and your attire. Consult with your local florist, they are the BEST place to turn when it comes to this decision.
If you are looking for pocket squares, boutonnieres or corsages, contact your town's local florists. She will help you choose the right floral accessories to fit your event!
This post is brought to you by local Independence MO florists.
Not in Independence? Use Flower Shop Network's handy directory of real local florists to find a florist near you today!