Flower Shop Network had a chance to interview the 2010 Arkansas Designer of the Year Bitsy Carter of Hope Floral in Hope AR.
We asked Bitsy a few questions to see what makes her tick and why she feels the floral industry is a fun and exciting profession.

Flower Shop Network: How long have you been a florist?
Florist Bitsy Carter: 12 years…officially, flower shop child for years before!
Flower Shop Network: When did you open your flower shop in Hope?
Florist Bitsy Carter: Our shop has been in Hope for more than a half century, however, my parents bought it in 1995!
Flower Shop Network: What would you say are the top flower trends in Hope, Ar?
Florist Bitsy Carter: Hope is a small rural town in Southwest Arkansas, needless to say many of our customers are becoming comfortable when we take them out of their "box".  I would definitely say that using decorative wire in designs and novelty items such as butterflies, etc… are a hot ticket item in adding to minimal designs ie cubes, etc… to give it that fun, distinctive POP!
Flower Shop Network: What are your floral specialties?
Florist Bitsy Carter: I LOVE prom work!! Love the idea of having fun with something that so many florists dread…the teens are open to new and exciting designs that challenge me!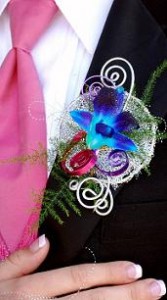 Flower Shop Network: Favorite arrangements or other designs you've done?
Florist Bitsy Carter: My favorite design currently is our new boutonniere style…I absolutely love the endless design opportunities that decorative wire has opened up for florists!! They are simple, but chic for prom!
We also have a reappearing mannequin arrangement that "pops up" at an annual fundraiser event we sponsor for our local college. It is the highlight of the party, everyone is looking for FiFi and her flowers!!
Flower Shop Network: What is your favorite flower?
Florist Bitsy Carter: I love iris, don't like to work with them…but love the flower itself!
Flower Shop Network: What is your favorite wedding bouquet?
Florist Bitsy Carter: Fall bouquets are always my favorite!! The textures and materials are just that much more interesting and challenging! And you can NEVER go wrong with fall tones!
Flower Shop Network: How have you used the Arkansas state flower in your designs?
Florist Bitsy Carter: Our state flower is an apple blossom, saying that I have never specifically used that flower nor has it ever been requested.
Flower Shop Network: What has been the best part of being a florist in Arkansas?
Florist Bitsy Carter: Arkansas is a unique state in that most of our shops, shop owners, employees, designers, etc… are networked in someway or another. We have an awesome state association that offers many educational and competitive opportunities to get to know and learn from other florists that are in the same areas as we are! We have similar stories to share and often lean on each other for extra help in good times and bad times. I feel very very fortunate to be in the floral industry in Arkansas today!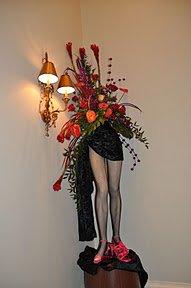 Flower Shop Network: Do you have a floral design philosophy?
Florist Bitsy Carter: YES!! Start with colors! If the color harmony isn't there the eye is totally thrown off no matter how amazing the design is!
Flower Shop Network: What style do you specialize in–modern, traditional, romantic, etc…?
Florist Bitsy Carter: I can't say that I specifically specialize in any type of design other than what my customer asks for!! I thoroughly enjoy modern design, very clean lines, tight mechanics, etc…
Flower Shop Network: What makes your arrangements better or different than anybody's else's?
Florist Bitsy Carter: I wouldn't say my designs are any better than anyone else's…however, I do take pride in every design that leaves my shop or has my name on it! I particularly take pride in design mechanics and understanding the design principles and elements of design so that each design is not a guessing game….but a beautiful product for someone to enjoy!!
Flower Shop Network: Do you remember the first time you received flowers?
Florist Bitsy Carter: A few years ago, one of my older customers, who picks up every order and hand delivers them himself, ordered an arrangement to be picked up. He kept saying, " Make it fun for someone like around your age!" So I did!! It was one of the coolest, funkiest arrangement I have ever made!! He paid for it, signed the card and turned around and said, "Happy Birthday Bitsy, make sure these go home and don't get resold!!" I took them home and actually enjoyed a beautiful bouquet for my birthday!!:)
Flower Shop Network: How did you get started in the floral business?
Florist Bitsy Carter: A second-generation florist, I came into it  by family chance! My dad has been a florist all my life and I watched him for years, never thinking it would be me someday! Eventually, my dad taught me little by little, all the time saying, " I'm teaching you so I can actually have a vacation." Best decision of his life, to teach me floral arts!! I love it…always said I would never do it, but love every single minute of it!! I am so thankful to be part of a shop and industry that ultimately cares for people and their needs! And I am even more thankful that it shows in our flowers and on our faces!

The enthusiasm Bitsy has for the floral industry is only part of the reason she was named 2010's Arkansas Designer of the Year. Creative outside-of-the-box designs and strong customer relationships are what lead to her recognition.