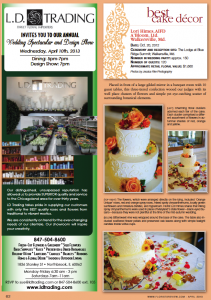 Congratulations to Lori Himes, AIFD of A'Bloom LTD for her great floral designs recently selected for "Best Cake Decor" in the Picture Perfect Wedding Contest in the Florist Review – April Issue 2013.
Lori contributed floral designs for a wedding last fall at The Lodge at Blue Ridge Summit in Walkersville, Maryland, and was recognized for her excellent work when incorporating flowers into the wedding cake. She took a moment from the busy Mother's Day order rush to talk to me about her featured flowers.
"I've known the bride and her family for a long time. She was very open to our ideas. When given that opportunity we like to do more of a natural style that goes with the season. Autumn colors are my favorite and I love to use what is available in this area like bittersweet vine. You have to know where to find it. We have a secret spot where we go collect our own so don't tell anyone where it is. You have to be sure and get it before the first frost."
The winning cake decor consisted of fresh 'Orange Unique' roses, red and orange spray roses, mixed spray chrysanthemums, sunflowers and miniature dahlias and hypericum placed directly on the icing.
The autumn colors beautifully set off all 3 layers of decadent white cake. Placed in front of a large mirror in the reception area, this towering delight was nestled on a tabled with a fabulous scatter of preserved oak leaves, colorful flower petals, and Lori's own secret store of bittersweet vine.
Lori's Expert Tips for Working with Cake Florals [Read more…]