Like most people in the floral industry, Valentine's week is a busy time for the Flower Shop Network staff. We work long hours and are only passing blurs at home. Luckily, we all have wonderful families who understand and support us. Family members drop-by to check on us and there is an abundance of snacks to keep us going when exhaustion hits.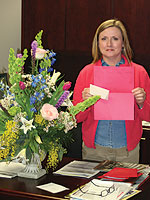 Yesterday afternoon, Loranne Atwill (Flower Shop Network owner) received a beautiful Valentine's Day flower arrangement from her nine-year-old son, Luke – I'm sure his dad probably helped. English Garden florist in Paragould Arkansas delivered the flower arrangement with Luke's hand written message. Basically the note said, although his mom was working late every night this week, she was still his number one Valentine. This delivery, as well as some of the other Valentine's Day flowers received by other FSN staff member, reminds me of the real reason for sending flowers – to express our feelings and create memories.
After all, isn't that what Valentine's Day is all about; letting those we love know how much we love and appreciate them. Whether it is a grand gesture like Luke's or the simple gesture of purple tulips in a silver vase, sending flowers to someone on Valentine's Day is a magnificent way to express your love and create a lasting memory.
For all you florists who are exhausted, frustrated and pondering the big question "why am I in this business", remember the world needs florists to do their magic with flowers; so, we can create memories, express our affection and look like heroes to our loved ones. So, from the bottom of mine and Flower Shop Network's heart, to all of the florists and their staffs who have work so diligently to make everyone's Valentine's Day dreams comes true — THANKS.