Ask The Plant Expert:
This flower was part of a bouquet and dropped a lot of very small round black seeds. What is the name of this plant? – Shirley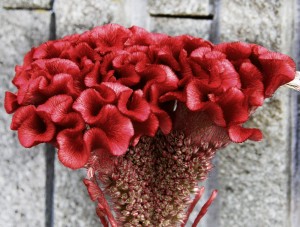 Flower Shop Network Plant Expert Reply: Shirley, the name of flower is Celosia.
This interesting pink flower is commonly called cockscomb because it resembles the comb of a rooster. The genus name is Celosia. The perennial cockscomb is Celosia argentea and the annual types fall under Celosia spicata.
Celosia History
Celosia's name is derived from the Greek word for "burning." It grows widespread across Mexico, where it is known as "Velvet flower." In northern South America, tropical Africa, the West Indies, South, East and Southeast Asia where it is grown as a native or naturalized wildflower, and is cultivated as a nutritious leafy green vegetable. It is traditional fare in the countries of Central and West Africa, and is one of the leading leafy green vegetables in Nigeria, where it is known as 'soko yokoto', meaning "make husbands fat and happy".
Celosia Flower
An interesting addition to the garden, Celosia is also a versatile flower for decorating. Florists use it both as a cut flower in fresh arrangements and as a dried flower in permanent arrangements.  So enjoy this wonderful flower while you can – a killing frost will put them to rest for the winter.