Backyard BBQs, pool parties, picnics — you name it, it's happening now! Summer's here and EVERYONE'S outside enjoying the sun!
The Patriotic-Themed Summer Party
Just because the 4th will come and go, doesn't mean you have to put away your patriotic decor! You've got the perfect party theme! Decorate your porch, yard or rented pavilion with everything red, white and blue. Find 4th of July themed party supplies like hats and glasses to force everyone into the festive spirit! (Once the 4th is over — think: clearance, clearance, clearance!)
For food, think traditional American — hamburgers, hot dogs, and anything else that cooks on a grill! Adorn your desserts with fresh strawberries, cherries and blueberries on top of white icing for a delicious red, white, and blue treat!
A party just isn't a party without beautiful table decor. Ask your local florist to create a patriotic floral centerpiece for your guests to enjoy, just like this one by one of our great members, Hart Floral.

Summer Garden Party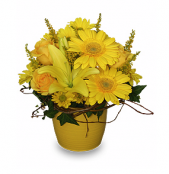 Gardening has quickly regained it's status as a favorite pastime all over the world. Between you and your friends you are bound to have at least one garden, flowerbed, or … well, just a tree will do. Use a simple card table with a nice table cloth for your focal area, garden parties tend to be fairly small.
Pick a color palette to stick with when decorating for a more 'designer' look. It can be all one color or several. Also, it's a good idea not to mix and match bright colors with pastels. For decoration ideas, browse through an aisle in your garden center. You could use terracotta pots, mason jars, or watering cans as containers for your party snacks and finger foods. Kid's shovels could be used as serving utensils.
Your garden party menu should be light, finger food-type entrees. You could even do garden-themed foods, like mudslide pie or cupcakes with cookie crumb 'dirt' ontop. (Depending on the age of your guests, use gummy worms!)
Ask your local florist to create a garden themed centerpiece for your party. Be sure to tell her what your color scheme is! You just can't have a garden party without FLOWERS! Your local florist can hook you up with all sorts of summer flowers to use in your garden party decor!
Transform your garden party into a grown-up tea party.. or invite the kids to join. Decorate your table in the girliest way possible — think: beads, feathers, pearls, jewels. Find inexpensive china or other dinnerware from your local thrift stores. Doesn't match? Not a problem, just gives it character! The possibilities are endless!
Our sister site, Wedding and Party Network, did a post all about garden parties not too long ago, check it out: Candle-lit Garden Party On A Budge


Hawaiian Luau Party
Aloha! Hawaiian Luau Parties are great for hosts with pools! Encourage everyone to don their grass skirts and coconuts! For luau decorations, think beach and tropical, tiki masks, torches and Hawaiian leis
Luau food is easy! Have a fruit tray with lots of tropical and citrus fruits. Set up a make-your-own-shish kabob table and let everyone customize their own kabob for grilling. If you're really brave, go for a whole hog cooked in the ground.. (Hey, I said you had to be brave… I know I'm not brave enough!)
The key to a Hawaiian Luau Party is a good lei! Contact your local florist and ask about fresh flower leis, they look great, smell great and will be memory you will never forget!