The Ozark Florist Association held their annual convention on the 13th, 14th, and 15th of September. FSN was there to take part in the festivities and cheer on Rick Rivers as he gave his presentation titled "Marketing in Today's Climate". Here are a few photos of what we saw!
Here is Rick Rivers posing in front of the Flower Shop Network standee with Stacie from Springfield, MO.
Here is the top slide from Rick's slide show. The two images to either side of the Flower Shop Network photo are the covers of the two books that Rick has written on these subjects, Blooming at the Top and No Fishing in My Pond!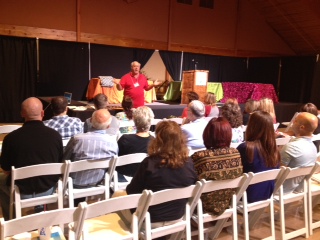 Rick talking to the crowd.
A beautiful arrangement designed for the FSN booth! A big thanks to Kay Schlaefli with Expressions Flowers in Fort Smith, AR! Great job!
If you didn't make the Ozark Florist Association Convention this year, you can always start planning for next! Thanks for reading and I hope you enjoyed the photos!