What's your story? What are the biggest accomplishments in your life? You don't have to be an astronaut to have a great story. It could be your faithful devotion to gardening, crafts or family. It could be your love of hobbies like scrapbooking, reading or climbing mountains. What story do you want to tell?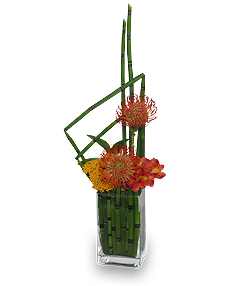 If you're having friends over, throwing a party, or just want a little pick-me-up for yourself, why not let your florist to tell the story through flowers? Most floral designers are very creative and would love the challenge of interpreting your story through color, flowers and accessories.
These custom arrangements don't have to be over-the-top or huge, but the subtle, creative ways flowers are arranged can tell more of a story than you might expect.
Here are some examples:
Yoga Guru – A yoga teacher wants to have a very special class with her students. She asks her florist to create something to tell the story of yoga through flowers. The florist creates something like the arrangement to the right. The bamboo-like Equisetum adds an Eastern quality to this arrangement and the way it's standing tall and used bent reminds viewers of the flexing yoga poses.