Over the weekend, Flower Shop Network attended the 61st annual Southern Retail Florists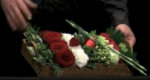 Convention in Concord, North Carolina. While there, we saw hundreds of unique and creative floral designs, learned lots at the symposium presentations and hands-on workshops, and were inspired by the design interpretations of the prestigious Harwood Cup Competition.
I will be posting blogs all this week highlighting some of the great ideas we got to see and learn about at the event — bridal bouquet trends, sushi flowers, mini arrangements — Plus great coverage of the unique Harwood Cup Floral Design Interpretation Competition, and much, much more!
These events are very important for florists to come out and enjoy! Get in touch with YOUR industry – support your floral shows!