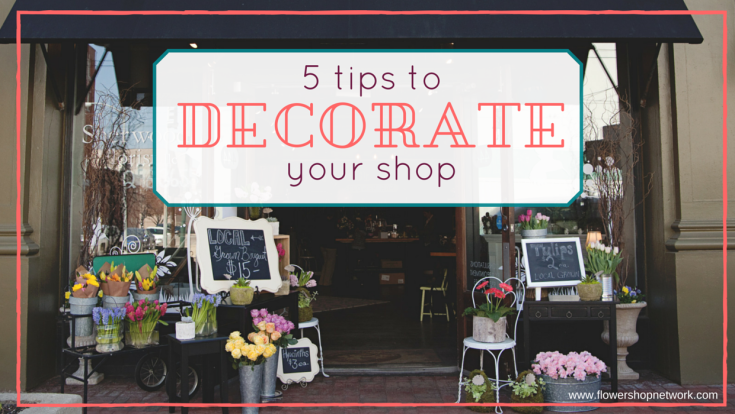 Sometimes it's easy to forget that the quickest way to market your shop is from the sidewalk. Customers are drawn in from the first look of your shop's front window display and will remember your store from the chic interior. With that creative mind, you can make your shop look as beautiful as your designs with some easy tips! Sherwood Florist from Dayton, Ohio has shared with us 5 great tips for florist on how to make your store enticing for customers!
The Basics
Who is the main shop decorator?
Jessie Wright, Co-owner of Sherwood Florist is the main decorator and display designer in our shop. However, the team at Sherwood all tend to follow suit and put their own spin on certain displays.
How do you get inspired?
My inspiration comes from so many different outlets. The building in which our shop is located is inspiration itself. From the exposed brick to the original hardwood floors and the large open space in general. Social media also plays a huge factor for inspiration. Most of all, I like to find fabulous old pieces that are worn or bound for the trash and reinvent them or group them together for an impact display. Most of our display tables, counters and shelves are all from reclaimed wood and salvage warehouses.
Why is it important for a florist to make their flower shop look nice?
Keeping up with trends and reinventing your space is half the battle, but definitely most important for your brand and will absolutely pay off in the long run. Keeping a clean concise shop is appealing for the eye and will draw customers to want to walk through and browse your space.
Do you have a decorating mantra?
Our decorating mantra is keeping it simple. There is no place in a successful shop for clutter. We find it is good to have a few core display areas and keep the rest of your space simple and clean.
Can you tell us about your focal piece chalkboard wall?
Our chalkboard wall came about when we moved into our new space nearly two years ago. It is a wall that we built to hide our walk-in cooler. It is the first thing that your eye is drawn to as you walk into our shop because it is directly 60 feet across from the front door. So we knew we wanted something on there that was bold and a focal, but not too busy. We decided to paint it with chalkboard paint. Our main design table is right in front of the chalk wall so it just made sense to add a few bar stools at the end of the table so that our clients wait on their design to be created at the "Flower Bar." Not to mention a few tips for them to help decide what type of arrangement they would like to order.
Sherwood Florist's Top Decorating Tips
Photos courtesy of Sherwood Florist
1. Keep it Clean!
Anything too busy or cluttered is a turn off to customers.
2. Use What You Have
Your shop is probably filled with items that are just waiting to be reinvented.
3. Keep Up with the Trends
I'm not saying completely redecorate your space with each changing season, but certainly add or update a few core "statement" pieces.
4. Identify Who You Are Trying To Appeal To
For instance, it's the New Year, which means booking season for weddings. We've added a soft hint of gold with a bit of eye-catching bling to a portion of our front window for this season.
5. Step Out of Your Box!
Do something that would never normally do. You will end up surprising yourself!
Thank you Sherwood Florist for these great tips! Check back with the Bloomin' Blog for more great ideas!