I just got back yesterday from the Tennessee State Florist Convention in Franklin TN, and what an amazing show! My head is still spinning with all sorts of floral design inspiration which I will do my best to share with our awesome followers and friends! But first, let's do a quick recap of the show!
This is the show-stopping design that greeted you as you walked through the doors of the convention. I can't even describe to you how big those lilies were, and the bells of Ireland looked as if they were waving "hello" to newcomers, inviting them to join the fun!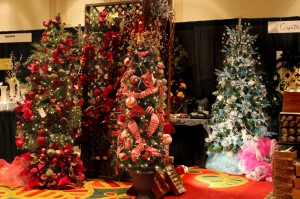 The over-all theme of the show was The Mystical, Magical Merriment of Christmas. Magical it was! There were so many new products and interesting Christmas trends, I can't wait to start writing that article, but for now I'll leave you with these pic previews. Looks like the Christmas tree trends are all pointing to over-the-top Christmas craziness. A Christmas tree has transformed from something you simply hang ornaments on, to a starting point for a colorful theme or design. People are using anything and everything in their trees to make outstanding.
The Tennessee State Florist Convention also had quite a few interesting competitions, these shots are from the Tabletop Competition. Each competitor decorated an entire table-scape down to the tiniest details. Each entry table was completely different and incredibly detailed. I could've spent hours looking at each one and still be finding new details. Much more on this contest later in the blog, but I must congratulate Michael Steakley on his big win! (And we are proud to say he's a designer in an FSN member shop – Hofmann Florist in Chicago IL )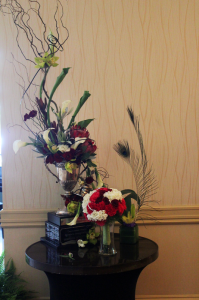 The incredible trophy for the TSFA Designer of the Year. This is just ONE of the three trophies from the competitions at the state show. Imagine this gorgeous trophy sitting in your shop for a whole year! (This is just one of incredible reasons you should be attending your state shows!)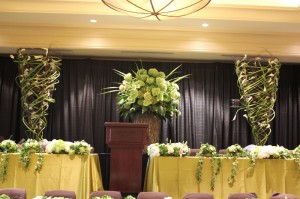 Words cannot even describe the magnitude of the designs from the TSFA Presidential Dinner. Perhaps, WOW WOW WOW WOW WOOOW! Click on the pictures to see them better. You can see from the size of the chairs just how BIG these designs were. The color scheme of green and white went perfectly with the natural vases and industrial-classic style. Those green balls are actually hedge apples, a bright green fruit with incredible textures. These went perfectly with the balls of white carnations. This room was just a dream.
No matter what your taste, you will always find new ideas, tips, products and inspiration at your local, state and regional floral shows. These shows are truly the times floral designs appreciate the most. They are unleashed to do anything and everything they can imagine with all of the unique and perfect products to do it with. Floral designers floral artists showcasing their talents in the grandest possible way. These shows are where you will see things I guarantee you've never seen, or even dreamed of before. You can take the ideas and creativity gained at these shows home to your shop to try it in your own way.
Let us know what shows you've been to, or will be going to this year! We'd love to hear your take on them, and if you want, you can write an article for our blog about it. Simply email me at mandy@flowershopnetwork.com
There will be MUCH more to come from this show later on this week! STAY TUNED!