Over the weekend, part of the FSN Team traveled down to the Lone Star State for the Texas State Florist Association's Annual Convention. This year's theme was, "Floral Paradise" which is exactly what they created. In their unusual location, The Hanger Hotel (an actual airplane hanger!) they brought paradise to life with only the flair florists can bring.
Metro retro. The old hanger definitely had a retro vibe. Love the way these creative Texas florists work it into their show. Looks like something you'd see in a old war-time postcard or something.
Our Booth. The Flower Shop Network booth was looking stylish with a flower arrangement designed by a local Fredericksburg Texas florist, Blumenhandler Florist. Lots of compliments on this one!
Design Winners. The Texas Cup competition is one of the biggest events of the show. This year's winner Nicola Parker is a designer at G. Johnson's Floral Images out of Houston. BIG Congrats to you, this is a great honor!
You can't have a tropical-themed show without the TIKI!!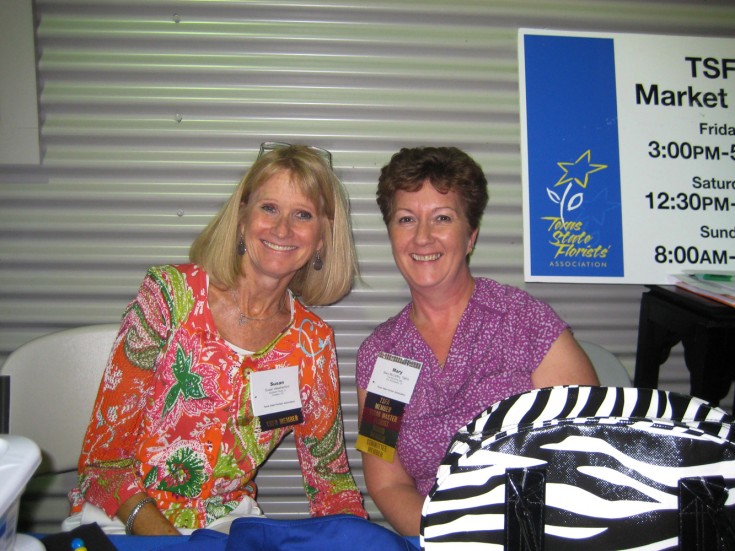 Seeing show friends. One of our favorite things about going to these conventions every year is seeing the same faces. You start to make real connections and lasting friendships as the years go by. One of our favorite friends to see when we are in Texas is Mary McCarthy (right) of The Blooming Idea in The Woodlands, TX. (You might remember her from our TSFA interview a couple years back!) Also in this picture is our friend Susan Weatherford (left) of the Southern Floral Company out of Houston. So great to see you both!
Gerbs and hot summer colors were IN this year! But of course you have to have bright colors to taste the tropics!
Awesome trade show! Patrick Berry and his wife Marilyn definitely win for most impressive booth in the trade show! Their castle-like display for Vickery Greenhouse was massive. Patrick Berry is the current president of the Texas State Florist Association, you might remember him from our interview from 2010's show. I know how difficult it is to work a trade show booth: the loading, assembling, perfecting, re-loading… Many show-goers are opting for smaller booths, but not the Berrys! 'A' for effort guys!
FSN's Ken Cochran (left) and Patrick Berry (right), President of the Texas State Florist Association.
More pictures from the floral design presentations and competition entries. Texas designers are so talented!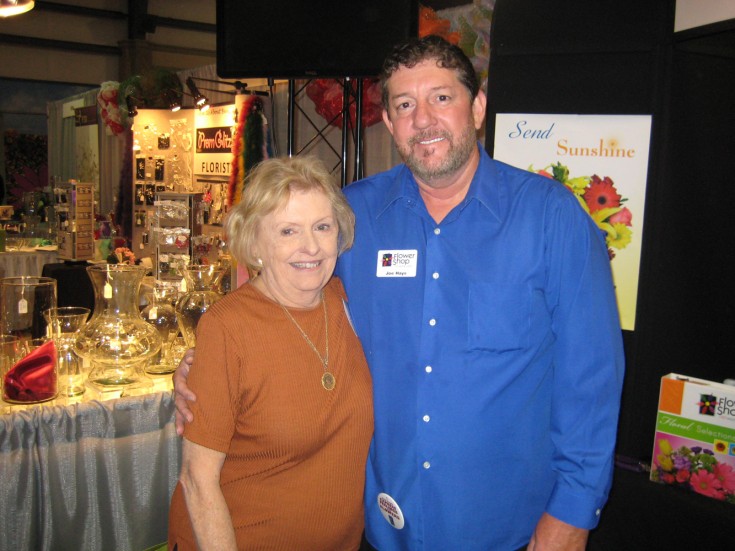 Order Surprise! One of my favorite stories from this show was about this florist from Liberty Hill, TX. Jackie Morris of A New Leaf Florist was talking to Joe (pictured right) in the FSN booth when she got an alert on her cell phone with an order from her FSN website. She told Joe she was afraid she wouldn't make it back in time to accept the order so Joe helped her use the computer at the booth to do it! Just goes to show you, you can accept an FSN order anywhere, anytime! She was very excited.
Meeting more friends. FSN's Ken Cochran (far left) with Debbie Gordy of Compton's Florist, La Porte TX. FSN's Beverly Burns is with the beloved BJ Kirshner (far right).
What will next year bring? I would bet it will be even more inspiring and amazing. Hope we see you there!