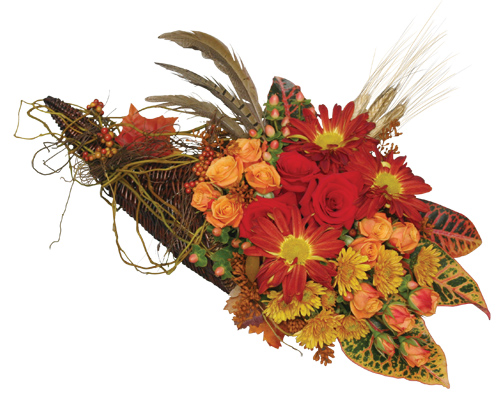 Have you found yourself preparing for the big day of turkey and gratitude?  Maybe hauling the good dishes down from the cabinet and digging out the nice tablecloths. Perhaps you've been thumbing through a few magazines to see if there are any good ideas for decorations … if only you could somehow manage to make time to get to the craft store!
If your whole family is headed to your house to celebrate, we know your To-Do list is extra long. With deep cleaning, special cooking, and trying to manage everyday tasks like work and school leading up to the big day, who has time for decorating?
You do! With just one call to your local florist, you can have your house looking warm and welcoming with no extra time spent! Your guests will instantly notice the lovely look of delicate blooms and earthy textures and definitely savor the fragrant aromas only possible with fresh cut flowers.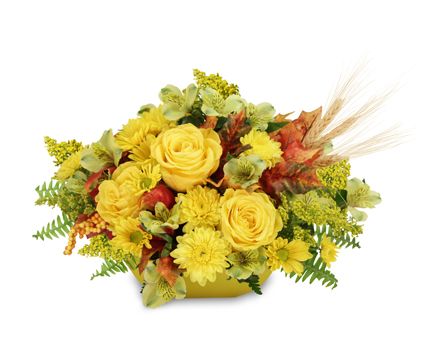 Order a breathtaking centerpiece for your dinner table. Maybe an eye-catching arrangement for your entryway. A seasonal wreath is perfect for your front door or the dining room. Whatever room needs a special touch, flowers are a great way to make a statement. And best of all, they can be delivered right to you. No need to fuss, stay up late or struggle to finish that idea you saw on Pinterest that honestly sounded a lot better 5 hours ago. With flowers, your Thanksgiving decor will be a snap!
No matter your style, there is an arrangement for you. Want traditional? Modern? Outdoorsy? Just ask your florist. Read more about different Thanksgiving flower styles and make sure to order early so you can enjoy checking one more thing off your To-Do list!
Headed to someone else's house for Thanksgiving? This is your chance show your gratitude for all the hard work it takes to put a successful holiday meal together.  This year, be the thoughtful dinner guest who does more than help with the dishes. Order phenomenal blooms in seasonal yellows, reds and oranges to make someone else's holiday decorating easy. Be sure to have the flowers arrive the day before and your hostess will reserve her biggest hug for you!
Enjoy everything this holiday has to offer and make your Thanksgiving decorating easy by bringing in nature's bounty.