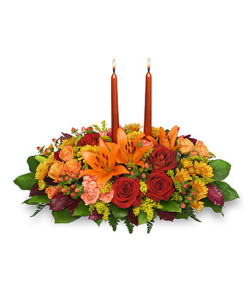 If you aren't the greatest chef in the world you can still bring a cool hostess gift to a Thanksgiving dinner. Thanksgiving flowers are a staple at the dinner table and around the home. What could be more festive than giving thanks for ALL of the harvests (flowers included) by bringing along a fall bouquet?
Now there are many types of flower arrangements that you can bring to a Thanksgiving dinner or party. To know which is right when talking to your florist, consider two things. First, consider the nature of the event. For instance, an elaborate dinner party may be beautifully decorated for fall. A simple "thank you" Thanksgiving bouquet will be a lovely reminder to the host and a good display for other tables throughout the home.
Next, consider the personality of the host/hostess. If they like opulence, over the top is better. Are they more contemporary or traditional? These things will help your local florist create a beautiful arrangement perfect for the occasion.
Want a visual idea to show your florist? Take a gander (bad pun-sorry) at these Thanksgiving flowers.
This slideshow requires JavaScript.
"Bountiful Cornucopia" pays homage to the traditional decorations of Thanksgiving. Cornucopias represent abundant bounty, good fortune, and blessings. In other words, perfect sentiments for your host or hostess.
Over the top Thanksgiving gatherings deserve the "Orange Opulence" flower basket. This simple but beautiful arrangement fills the room with the warm, earthy colors most associated with fall.
For some reason, contemporaries seem to gravitate to the "Contemporary Thanksgiving Flowers" arrangement. Go figure.
It may not be a waterfall but the "Cascading Splendor" Thanksgiving arrangement lives up to its name. It is contemporary beauty and style in a simple glass vase.
What's Thanksgiving without a candle wreath? Aside from a cornucopia, fall flowers surrounding warm colored candles are at the top of the list of popular Thankgiving flower arrangments. The  "Abundant Beauty" fall centerpiece puts a modern spin on the classic and is perfect for any table.
The "Amber Sky" of fall is one of its most glorious features. As a tribute to the splendor of the heavens, the "Amber Sky" fall flower arrangement reaches out with warm rays of sunshine through the whole meal.