An easy way to take your Thanksgiving decor to the next level is by incorporating harvest-themed flowers. The colors, fragrances, and beauty of the flowers can make any buffet table look like it was composed by Ms. Martha Stewart herself. Let's take a look at the different styles available; try to imagine each of these on your holiday table.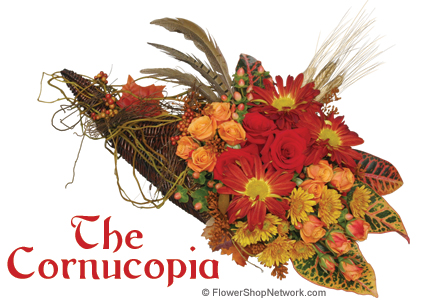 The Cornucopia – Holiday Decor
How gorgeous is this beautiful cornucopia design above? Wouldn't you love it adorning your holiday buffet table, or even as a centerpiece? It's rustic fall leaves mixed with deep red flowers and orange mums are enough to dazzle any Thanksgiving guest.
The cornucopia (or horn of plenty) has an incredibly interesting history itself, dating back long before our current Thanksgiving holiday. The word 'cornucopia' actually dates back to the 5th century BC. It derives from two Latin words: "cornu," meaning horn (as in the name of that one-horned creature, the "unicorn") and "copia," meaning plenty (a relative of such words as "copious" and "copy"). Read all about the history of the cornucopia (horn of plenty).
More Examples of Cornucopias:
---
The Thanksgiving Centerpiece
You cannot go wrong with a beautifully designed centerpiece featuring flowers in all the colors of fall. A true feast is just not complete without the adornment of a beautiful, fall-colored centerpiece. There are many options to centerpieces: some have many candles, some have a big single candle, some are large and low, some are tall and thin — it's best to choose what works for your table and seating arrangements. Think of where your centerpiece will be placed, as well as where your guests will be seating and conversing.
More Thanksgiving Centerpieces:
---
Thanksgiving Flower Arrangements
Another great option for Thanksgiving is harvest-themed flower arrangements. These can be as big and over-the-top as you need, or small and personal for a gift. Thanksgiving flower arrangements make prefect hostess gifts, especially if you're not the best cook in the world. (Personally, I know when I bring flowers to a Thanksgiving dinner, they go over FAR better than if I brought any of my sub-par cooking.)
Having Thanksgiving flowers delivered for distant relatives and friends is a great way to say "Thanks" when you are unable to be there in person. Your flower arrangement will be the talk of the night, and will last for many days, as though you were there for a short visit. (Check out these Thanksgiving Card Messages to say the perfect words.)
More Thanksgiving Flower Arrangements:
No matter what type of flowers you choose for your Thanksgiving Day dinner, always, always, ALWAYS use a local florist. They will create something perfect for your big day.