It's Earth Day again! Time now to celebrate the rich beauty and the fullness of this great planet that daily sustains the lives of millions of inhabitants. With such a remarkable and rewarding existence, it is no wonder that April 22 marks the yearly celebration of such a fascinating home.
My older brother and I were sitting around discussing "green" politics one day—a practice not at all unusual or uncommon. The topic of Earth Day and Arbor Day spawned such enthusiasm that a planting party idea quickly emerged. He and I sat for hours planning an elaborate gathering of ourselves, our neighbors, and our community around a group of plants ready to break ground on environmental awareness and renewal. What plans to be a great time is reserved for six o'clock this evening at our local park with a host of friends, family, flowers, and foliage.
A bit of history on this holiday is that Earth Day was first celebrated on April 22 of 1970. Senator Gaylord Nelson had for several years been very disheartened by a lack of environmental awareness in political policy. Senator Nelson had tried earlier during the presidency of John F. Kennedy to push the issue into national attention. He met with President Kennedy to plan and discuss a national conservation tour. Though the success of the tour did not produce the results Senator Nelson had desired, it did spawn an idea that would later become Earth Day.
An epiphany of sorts came to Senator Nelson during a visit to a college campus in the summer of 1969. The Vietnam War was spreading fury among young protestors who took to the streets in opposition. Senator Nelson's view of these events sparked the idea for a national protest of the atrocities affecting the environment. Senator Nelson first spoke officially of a national grassroots demonstration for the cause at a conference in September of the same year. The following April, his vision came to life and would later become what we now know as Earth Day. More than 20,000 demonstrators including individuals, schools, and civic groups participated in the nationwide awareness movement.
With this knowledge emblazoned in our minds, Mark and I decided to keep the fiery tradition alive. While we may be just two people, we're two humans who breathe deeply the fresh air of a new day. A swim, ride, or hike is as much a renewal to our spirits as a fresh glass of lemonade on a hot summer day. Earth Day is a celebration of waking up to a fresh landscape, a way to appreciate our surroundings, and a national moment of thought toward the natural wonders that bring so much joy into the lives of us all.
If you can plant a tree to celebrate Earth Day, send or buy a plant that improves air quality such as peace lily, Chinese evergreen, English ivy, snake plant, or heartleaf philodendron (all pictured below). To learn more about plants that improve air quality, read NASA's Interior Landscape Plants for Indoor Air Pollution Abatement report.
– Brynn FSN Support Staff –
English Ivy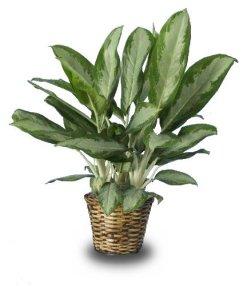 Chinese Evergreen
Peace Lily
Heartleaf Philodendron
Snake Plant – Mother In Law's Tongue – Sansevieria