If you want to skip right to the poll, just scroll to the bottom!
Wow. That's all we can say, florists. Just … wow.
From the moment this contest began, we received a constant flood of entries. Every time we thought the well was dry or that we had exhausted the pool of ideas out there, you proved us wrong. Fantastic tip followed fantastic tip serving to make this entire selection process extremely difficult. So difficult in fact, that we found no way to narrow the options to a mere three finalists.
How could we? They were too good!
Instead, we have selected ten finalists. TEN! And because there are so many excellent entries to choose from, we didn't think it possible for anybody to pick just one. We certainly couldn't. So now you will be able to vote for up to three different submissions. And because we had so many excellent entries, we had to give out more prizes!
The Prizes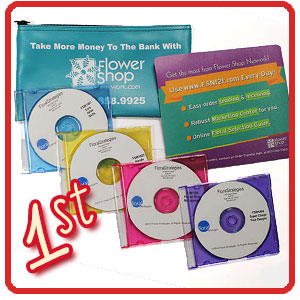 1st Place – 4 Training CD's from Tim Huckabee and Floral Strategies, FSN Mousepad and FSN Money Bag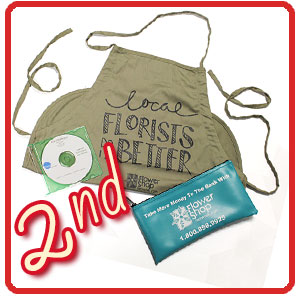 2nd Place – FSN Apron, FSN Money Bag and Tim Huckabee and Floral Strategies SuperCharge Your Designs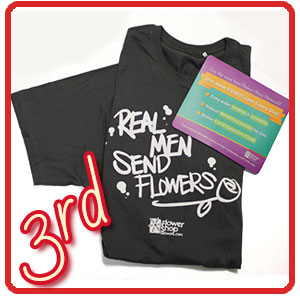 3rd Place – FSN T-shirt and an FSN Mousepad
Voting will end on October 29th and the winners will be announced October 31st.
Here are your FSN and Floral Strategies Tips for Training finalists in no particular order. Go to the poll at the bottom of the post to place your votes.
Come on, let's vote!
Tips for Training
I find during the holidays it's easier for me to develop a price point that I can easily change by adding one or two more flowers. I develop a recipe that has a good starting price point and make up to 30 vases. I have found if my vases are greened up I can make up to 6 to 8 completed vases in an hour.

Mary – Blossom Shop

We use corsage bags to keep all of the little hardgoods (ie: ribbon, bling, bracelets) for corsages with the order and for the boutonniere, a boutonniere bag. We put the order ticket right in the bag with the supplies, creating a "kit". This way the designer has everything they need to quickly assemble the items. It saves time by eliminating questions about the descriptions if the salesperson is not present when the order is filled.

Lori – Abloom, Ltd.

Every day, usually on my lunch hour, I get social. I check Facebook, post on Pinterest or learn a new app, and this has made my shop much more successful. Not only do I keep up to date with social media, it also forces me to eat lunch. Lunch is a meal that I know a lot of florists skip, but my social media hour everyday keeps our shop happier, healthier, and busier!

Adele – A New Leaf Flowers and Gifts

Coming up with a lump sum to pay sales tax each month can be a challenge. To make sure I have enough to pay the bill, I set aside the sales tax collected each day. With a web-based bank account, this is a simple daily transfer from your checking account to your savings account. Then when the sales tax is due, I transfer the money back to my checking account and write the check.

Daniel – Blumen Garten Florists

We like to call it "Dialing for Dollars"!

We track customers Birthdays and Anniversaries and then we call them a week before to see if they would like to send flowers again. It assures that your shop is top of mind and that you care enough to make the extra effort.
We have been doing this for some time and 99.99% of the time we get appreciation and the majority of the time we are filling the orders!It adds a personal touch and increases your revenue. A Win Win for your shop!

Lance – Playa del Rey Florist

One of the greatest things about America's favorite flower, the rose, is the fragrance. And sadly, most of the fragrance has been lost to genetic engineering in order to give the blossoms a longer vase life. If you really think about it the most fragrant flowers have the shortest vase life.

At The Flower Merchant, we add just a drop of rose scented oil by rubbing it on the underside of the foliage that is added to the rose design. It restores the element of the scent of flowers to the equation. I have notice that if I hand a rose to a client, the first thing they do is raise it to their nose for a good sniff. With the scent added, they smile and tell us how beautiful they are. The secret is to use a good, fragrant oil, and it just takes a drop! You don't want to over do it!

Pat – The Flower Merchant Ltd.

Once a quarter (the beginning of each new season) I do a "Pay it Forward" bouquet. I give it to one local business with the instructions to enjoy for a short period of time and then pass it on to someone else to enjoy for a short period of time. The only rule is you must post a picture of the bouquet on Facebook after you receive it. My shop gets a lot of "likes" that day and a lot of free advertisement. I am also able to reach new people, as the arrangement gets passed to people not in my own circle of friends.

Pamela – Lee's Floral & Gift Shop

Of course Holiday Time is always hectic. What I did since the first Christmas after opening my store 14 years ago, was to keep a Holiday Diary in Excel. I created a spreadsheet that captured the following information: Flowers ordered, quantity, from which wholesaler, Special containers, Holiday themed accessories. Then I would add in other information: Day of the week the Holiday fell on, weather, what sold well, what didn't, traffic flow, problems, best ideas.

This proved to be one of my best ideas, because every year I and then my manager would pull out the diary for Christmas, Valentine's Day, Easter, Mother's Day etc. Ready was the information on what to order (we would only augment the order to the percentage amount that regular business had increased over the previous year) and what to prepare for the Holiday. Over 14 years this worked perfectly and I believe we only had one Valentine's Day when we were left with product (due to a snowstorm and no walk in traffic!)

Marilyn – Nineteen Melrose Flower Studio

When training a new employee for phone orders we have a paper order pad we've designed that matches our POS order entry. That way, if needed, the employee can write down any info if they become frustrated entering an order on the computer. Having the paper pad give the employee a back-up system in case they get panicked. Plus, it helps them get used to the POS form.

Darlene – DLN Floral Creations

Don't take a complaint or concern about your service or floral arrangements personally, take it as a compliment! Why a compliment? My Grandfather always said, "That person thought so much about you that they are giving you a chance to improve on or fix the problem." Most people just stop shopping with you. Thank the customer for letting you know, take care of the their problem and even if you think the problem was minor, give them their money back or another arrangement or whatever it takes to make the situation right.

This person took the time to let you know of an issue that needs to be addressed. Had they not told you of the problem, how would you ever know? You'd just stand around wondering why your customers had all gone somewhere else. We are not selling a unique product anymore, even gas stations sell roses on Valentine's Day. All we have left is our service so be the best at service. Along with that, you present your outstanding arrangements and smiling faces. And even smile when you talk on the phone. You can hear a smile.

Dale – Baesler's Floral Market
Voting Poll
Don't forget to vote!
Which Tip Deserves the Training?
7. Pamela - Lee's Floral & Gift Shop (17%, 26 Votes)
10. Dale - Baesler's Floral Market (15%, 23 Votes)
2. Lori - ABloom, Ltd. (12%, 19 Votes)
6. Pat - The Flower Merchant Ltd. (12%, 18 Votes)
4. Daniel - Blumen Garten Florists (10%, 15 Votes)
8. Marilyn - Nineteen Melrose Flower Studio (9%, 14 Votes)
3. Adele - New Leaf Flowers and Gifts (8%, 12 Votes)
1. Mary - Blossom Shop (8%, 12 Votes)
5. Lance - Playa del Rey Florist (5%, 8 Votes)
9. Darlene - DLN Floral Creations (5%, 8 Votes)
Total Voters: 99

Loading ...