The voting has finally come to an end, and we have our winners!
These three shops fought through a flood of entries just to be included in the list of finalists. To then be chosen from all the other amazing finalist submissions to earn their spot? What an accomplishment! The voting was extremely close with only a handful of votes separating each, but here they are: the 1st, 2nd and 3rd place winners!
The Winners
3rd Place – Lori – Abloom, Ltd. – FSN T-Shirt and Mousepad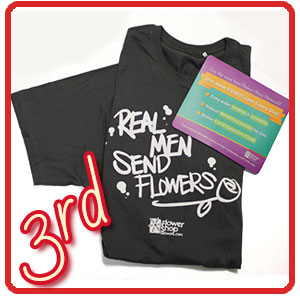 "We use corsage bags to keep all of the little hardgoods (ie: ribbon, bling, bracelets) for corsages with the order and for the boutonniere, a boutonniere bag. We put the order ticket right in the bag with the supplies, creating a "kit".
This way the designer has everything they need to quickly assemble the items. It saves time by eliminating questions about the descriptions if the salesperson is not present when the order is filled."
2nd Place – Dale – Baesler's Floral Market  – FSN Apron, FSN Money Bag and SuperCharge Your Designs CD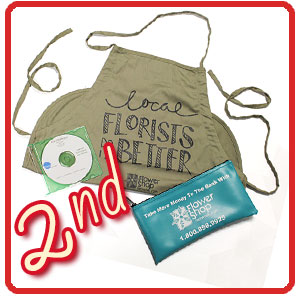 "Don't take a complaint or concern about your service or floral arrangements personally, take it as a compliment! Why a compliment? My Grandfather always said, "That person thought so much about you that they are giving you a chance to improve on or fix the problem." Most people just stop shopping with you. Thank the customer for letting you know, take care of the their problem and even if you think the problem was minor, give them their money back or another arrangement or whatever it takes to make the situation right.
This person took the time to let you know of an issue that needs to be addressed. Had they not told you of the problem, how would you ever know? You'd just stand around wondering why your customers had all gone somewhere else. We are not selling a unique product anymore, even gas stations sell roses on Valentine's Day. All we have left is our service so be the best at service. Along with that, you present your outstanding arrangements and smiling faces. And even smile when you talk on the phone. You can hear a smile."
1st Place – Pamela – Lee's Floral & Gift Shop – 4 Training CD's from Tim Huckabee and Floral Strategies, FSN Mousepad and FSN Money Bag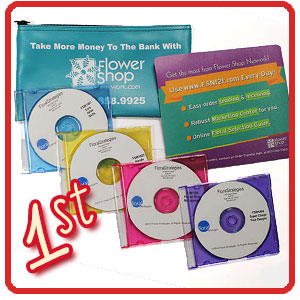 "Once a quarter (the beginning of each new season) I do a "Pay it Forward" bouquet. I give it to one local business with the instructions to enjoy for a short period of time and then pass it on to someone else to enjoy for a short period of time. The only rule is you must post a picture of the bouquet on Facebook after you receive it. My shop gets a lot of "likes" that day and a lot of free advertisement. I am also able to reach new people, as the arrangement gets passed to people not in my own circle of friends."
If you are a member of Flower Shop Network, you can see all the entries collected in one place in the new Florist Tips category located on the FSNf2f.com Marketing Center page.
Thank you to everyone who participated, either submitting or voting, and remember to keep an eye on the blog and our Facebook page for soon-to-be announced information on even more giveaways!