WOW! Valentines Day may have sneaked up on us fast, but don't fret. There's still time to send flowers and spark some romance!
While ordering early is ALWAYS best when ordering flowers during such a busy holiday, it's not always convenient. Now that it's getting closer, we want to make it EASY for you to get your flowers ordered and keep your sweetie happy!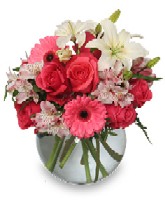 Simply follow these easy steps and you'll be all set for Valentines Day!
1. Be Ready With A Great Card Message
Valentines Day card messages should be from the heart. Sometimes when we're put on the spot, it's so much harder to think of just the right words. Think of how your sweetie has impacted your life and just what she means to you. If you need help, check out this list of Valentines Day Card Messages.
2. Choose The Right Arrangement
There are so many options out there for Valentines Day arrangements. However, as it gets closer to the big day, options grow more and more limited. Don't worry, we're here to help! There are only two things you need to consider when choosing flowers: (1) her favorite color, (2) her favorite flowers. If you don't know these, go for something classy, like roses. Check out these recent posts for even more ideas:
You can also browse our Shop Flowers section for more great Valentines Day arrangement ideas. (Choosing an arrangement from Shop Flowers will connect you to a local florist in your area to take care of your order. We believe in local business and do not take orders away from real local flower shops.)

3. Choose The Right Florist
The right florist is ALWAYS a local florist. It's so important to buy flowers locally on Valentines Day, but also every day!
If you don't know your local florist already, finding a local florist isn't as easy as typing "City, ST Florist" into Google. Unfortunately there are lots of 'order gatherers' out there who do not have your best interest in mind. (See: How To Protect Yourself From Gathers)
Verify you are dealing with a local florist with these easy tips:
Make sure you see a local address on their website.
Be sure they have a local number.
Don't be afraid to give them a call and ask them questions.
Don't forget, you can use Flower Shop Network to find a local florist. We do not act as middlemen and will never take an order (or even a percentage of) away from a florist.
 4. Ordering Your Arrangement
In our high-speed world, there are many options when it comes to ordering flowers. Let's take a look at them:
Online shopping is quickly becoming our favorite way to shop. It's ease and convenience can't be beat. Most local florists can now be found online and you can place your order directly through their website.
Who would have thought 5 years ago you would be able to order flowers from a local florist  directly from your phone? Well that's definitely a reality now! Many florists websites are mobile friendly. No need to download or buy apps, simply go to their website on your mobile! You can literally order flowers anywhere!
Calling your florist has long been the standard for ordering flowers. Your florist will be able to help you choose the best arrangements, flowers and even gift items. They will also tell you if they are out of stock of certain items or can give you information on special promotions that may not be on their website.
This is a great option for shopping late around Valentines Day. Most florists have a cooler full of pre-made arrangements you can choose from. You can also take a look around their shops to see what other great gift ideas to enhance your romantic gift of flowers!
No matter what you choose or how you send your flowers this Valentines Day, remember to always use a local florist!