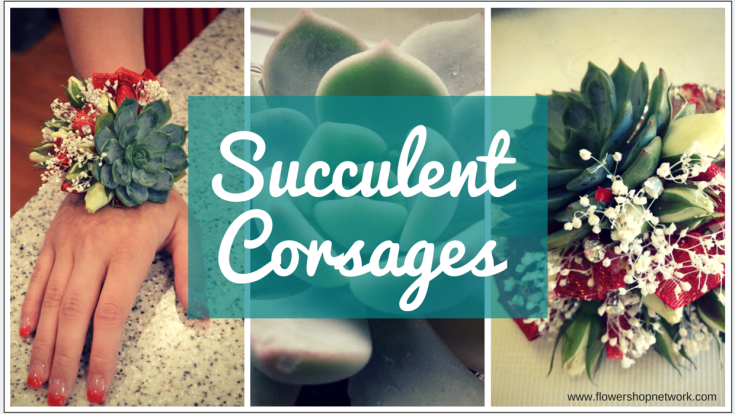 A new trend is breaking its way to the 2015 prom scene. We have seen how the widely popular succulent has been incorporated into wedding decor, bouquets and boutonnieres. Now, the charming succulent is making an addition to corsage trends. We reached out to Elba Feliciano of Flowerama in Lawrence, Georgia to talk about creating these succulent corsages.
Why do you think succulents are trending for prom and weddings?
The younger generation are looking for trendy, chic looks for prom and weddings. They like the non-traditional flowers and like to incorporate a different look and feel to their corsages–as well as wedding bouquets.
Have you made succulent corsages in the past?
We have made several corsages and wedding bouquets with real and artificial succulents.
How difficult is it to make a succulent corsage?
It's not difficult as long as you know the size and type of corsage you are making.
What type of customers are ordering succulents?
Your young customers for prom corsages and wedding bouquets.
What are some tips you would give a florist who is working with succulents for prom or weddings?
Evaluate how many orders you have with succulents or bridal bouquets and start any prep work before you begin to make the corsage or bouquet. For example, if you are making several corsages, you are probably using smaller succulents (always purchase extra), which will require some wiring. For bridal bouquets, know what other flowers will be used to compliment the succulents. I use artificial succulents that I used prior as a mock up with the flowers to ensure they will provide the look and feel I discussed with the customer.
What are some tips for customers who are considering ordering a succulent corsage?
It's important to consider the person that will be wearing the corsage when choosing the size of the succulent. Also, the look you are trying to achieve–elegant, rustic, or glamour–will require adding the appropriate accessories or ribbon. For a rustic look, I may use lace, but for a glamorous look, I would add more bling.
What do you like about this succulent trend?
There are different varieties of succulents that allow you to make each arrangement, bouquet or corsage customized with a different look. Succulents allow you to be creative! Artificial succulents work just as well!
It is no surprise that the succulent continues to add a rustic style to 2015 bouquets and corsages. While, it remains to be seen exactly how popular it will be come prom time, we know for sure that this chic plant is here to stay. Check back with the Bloomin' Blog for more great tips and articles!
Photos courtesy of Flowerama