Sushi lover or not, you have to appreciate the care, artistry and composition a sushi chef puts into their work. Sushi is quickly becoming one of the trendiest foods around! Even if you don't like eating the raw-fish rolls, you can still get your hands on cute sushi gear — from stuffed animals to jump drives — sushi is invading pop culture!
Don't forget our favorite way to use sushi — in trendy floral designs! Check out these great sushi-themed flowers we saw at floral shows this summer: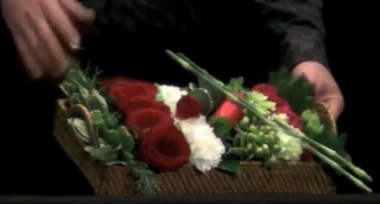 This dynamic design uses greens and flowers as sushi rolls. They recycled stems and wired them on as chopsticks! This design is very impressive and so easy to do! Great way to get some use out of those to-short, scrap flowers! The tray he selected works great for the presentation. You might also consider inexpensive plates (especially in unique shapes), lined box lids, bamboo-style place mats, simple wooden blocks and almost any container with an Asian-theme.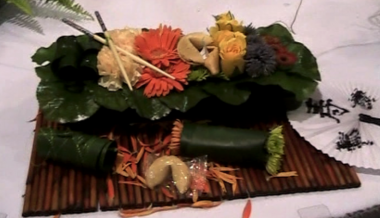 This design takes sushi flowers in a completely different style! You can see the little box of sushi, but also individual rolls are on the bamboo place mat. The rolls are very simple to do too — just wrap your flower heads in leaves (water pick or use a small block of floral foam for water source). This designer used chopsticks for this sushi floral design. These sushi roll flowers make GREAT hostess gifts! Plus your computer guy's nerdy girlfriend would love these geek flowers (I would)!
Not familiar with sushi? Do a quick Google image search for sushi and you will see hundreds of styles you can interpret into floral designs!
Florists, sushi designs are easy and small. Try a sushi flowers promotion! Send a couple of little example arrangements to areas you know will be frequented by teens to college students, perhaps a college student center, movie theater lobby, or your local sushi bar! Display with a card telling about your promotion. (Also, promote it on Facebook!) To really hit with the young people, offer several size and price options.
This post is brought to you by local Long Beach CA florists.
Not in Long Beach? Use Flower Shop Network's handy directory to find your city's real local florists!