Sending Valentines Day flowers online is so easy, but if you aren't going through a real local florist you could be loosing up to 30% of your $$ in unnecessary fees before it even gets to the florist! The VERY BEST way to order flowers is to make sure you are dealing with a real florist in your city or the city you're sending flowers to. (Check out this article by Cinda Baxter that explains more.) Flower Shop Network makes this super easy with our online florist directory. Simply type in the city above and see real florists as results!
Valentine's Day Flower Suggestions
Roses are Red, But What Does a Mixed Bouquet Say on Valentine's Day?
When most men think of sending flowers on Valentine's Day, roses seem to be the only flower to come to mind. Trust me guys, there are A LOT more options than just roses and baby's breath. It's kind of like sending fruit cake during the holidays, you're grandma might love it, but your girlfriend wants something a little more *bling bling*!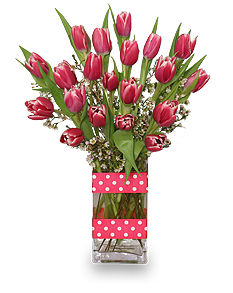 Pantone Color of the Year Perfect For Valentines Day 2011
The official color of 2011 is honeysuckle pink, which is fantastic news for florists and flower lovers! The luscious reddish-pink is available in many varieties of flowers, and looks great paired with almost any style.
The Romance Of Flowers: How To Choose The Best Flowers For Your Sweetie
Yes, roses are traditionally considered the most romantic flower.  However, this isn't always the case. Though it seems hard to believe, many men and women do not care for roses or favor other flowers more highly.  When you're in a pickle about which romantic flowers to get your sweetheart, don't be discouraged. Try these ideas instead…
Roses: Your "Go To Gift"
Need a fresh gift idea? Many people traditionally think of roses as a romantic gift.  However, roses are so much more than that. Few truly appreciate the uniqueness of roses and how the right spin on the gift of roses will make it the best gift yet.  Don't feel left in the dark. From the flower meaning of roses to crafty card messages, here's how to turn your bouquet of roses into the ultimate gift of love, friendship or thanks.
The Secret Of The Ultimate Valentine's Day Gift
Cupid is gearing up for this loving holiday. But what cupid doesn't have in his handy little quiver is the most phantasmagorical (best of the best) Valentine's gift around. Love and affection you already have so now is the time to figure out what to give the object of your sweet emotions. If you need ideas, you've come to the right place!
Valentine's Day Card Messages
Special Valentines Day Card Messages
Valentines Day Card Messages For Children
The Top Valentines Card Messages for Kids
Valentine's Day Ideas For Romance
Don't Let Your Lady Be The Only One At The Office Without Flowers on Valentines!
First off, don't let your lady be the only one at the office without Valentine's Day flowers. This is especially true if she works a desk job. Flowers are a staple of Valentine's Day gift giving! Your girl deserves much more than all of the others at her office!
Buying Last Minute Valentine's Day Flowers: Why Wait?!
Valentines Day flowers mean so much more than just a bundle of roses put together. If you want to really show how much you care, order EARLY! Take just a few minutes to call your florist and talk to them about your sweetie. When a florist knows what type of person they are designing for, they can make it truly personal.
How To Surprise Your Sweetie With A Romantic Valentine's Weekend!
Valentine's Day is coming up fast! Don't get left behind when ordering your Valentine's Day flowers. This year is a bit of an oddball because Valentine's Day falls on Monday. Of course you can have flowers delivered on Monday, but why wait? This year, turn Valentine's Day into a romantic, weekend-long event!