So, what happens if I DON'T order my Valentine's Day flowers EARLY?!?
Buying Valentine's Day flowers early ensures you get the BEST QUALITY flowers, BEST SERVICE, and they will arrive ON TIME! Take just a few minutes to call your florist and talk to them about your sweetie. When a florist knows what type of person they are designing for, they can make it truly personal. Valentine's Day flowers mean so much more than just a bundle of roses put together. If you really want to show how much you care, order EARLY!
Valentine's Day Flower Deliveries
Well, waiting til the last minute to order Valentine's Day flowers can put you out of luck with deliveries. Florist have a tight schedule on Valentine's Day; ordering early ensures you a guaranteed spot for delivery. If your delivery requires special accommodations, such as a specific time, then it is especiallllllly important to order early. (Getting the message here, guys?!)
How florists help: Often, to account for these last minute Valentine's Day deliveries, florists will add temporary delivery drivers. Even then, you're still playing it risky!
How you can help: Not to sound like a broken record, but order early… Another thing you can do is have your flowers delivered to your sweetie on FRIDAY. (Valentine's Day falls on a Monday this year.) It's a great way to kick off a Valentine's Day romantic weekend.
Valentine's Day Flower Pickups
Last minute Valentine's Day flower pickups is also a bit of a gamble. Don't be one of those guys standing around the flower cooler staring at the last few flower arrangements left, and don't just pickup a last-minute bouquet from a street vendor or grocery store either. (We will know, guys, we will know…)
How florists help: Florists fill their coolers to the brim with pre-made Valentine's Day orders, but trust me, they go fast! These are also the ones that go out on last-minute deliveries (if there are even any available). Many florists will open their flower shops early and stay late on Valentine's Day, but doesn't your sweetie deserve more thought than the last bouquet in the cooler?
How you can help: Order early! Pick up flowers for your honey on Friday instead of Monday!

Order Valentine's Day Flowers NOW through your real local florist!
FSN's Favorite Flower Arrangement For February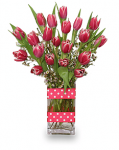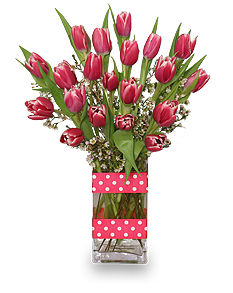 Kissable Tulips is our hands-down favorite flower arrangement for February. It's fun and fresh style makes it a perfect choice to send to your Valentine. I know what you're thinking, tulips for Valentine's Day?? Yes! Everyone gets roses for Valentines Day, why not mix it up this year and send something a little more unique. Kissable Tulips arrangement will suffice until your lips meet hers again.
Because the Kissable Tulips arrangement is a lot less traditional, it makes the perfect arrangement to send to any one of your many Valentines. Have one sent to your mom or even to your kid at school. Everyone loves this playful and fun Valentines Day flower arrangement.
Floral Design With You In Mind: Ordering Custom Flowers

When you think flowers, you might think of sending flowers for Valentines Day, or maybe as a thank you or get well gesture. But floral design has come a long way, and it doesn't always have to be sent as a gift. It's not just about flowers for you anymore, it's about flowers for me. Flowers in your home as fresh decorations. Get to know your florist. Take them an example of your style such as a swatch of paint,  a throw pillow, or even a picture and have them match your style exactly!
Nothing lifts the spirits and puts a smile on someone's face like the beauty of flowers. Why not have them displayed in your most high-traffic areas? This is especially ideal if you are throwing a party or even having a small get-together. If you're a sultry single, this Valentine's Day, why not send yourself the flowers you KNOW you want!? Your local florist can either create a floral arrangement to match your home, or a themed arrangement to match your party.
Continue reading about ordering custom flowers…
---
FSN's Favorite Flower For February: Anthurium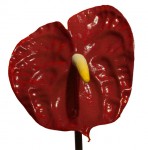 What better choice for our favorite flower of the month than the beautiful Anthurium? It's heart-shaped flower heads make it perfect for Valentine's Day. So what's the best part about sending an Anthurium arrangement to your Valentine? It has a the longest vase life of any cut flower! Anthuriums can last up to a whopping 28 days! Anthuriums add an exotic look to arrangements and can be used with all types of flowers as well as with other tropicals.
Anthuriums are called many different names — flamingo flower, painted tongue, boy flower, and a few others that may not be suitable in certain company. The actual name, Anthurium, comes from the Greek, meaning tail flower. All of which undoubtedly derive from the unusual shape of this quirky plant.
Read more about our favorite February flower: Anthurium…
---
How To Surprise Your Sweetie With A Romantic Valentine's Weekend!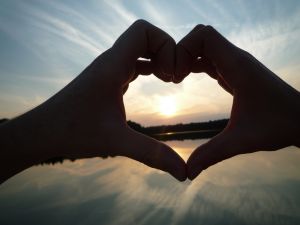 Valentine's Day is coming up fast! Don't get left behind when ordering your Valentine's Day flowers. This year is a bit of an oddball because Valentine's Day falls on Monday. Of course you can have flowers delivered on Monday, but why wait? This year, turn Valentine's Day into a romantic, weekend-long event!
Begin your Valentine's Day Romance Weekend by sending flowers to your hunny's office on Friday. She will spend the whole day looking at those beautiful blooms and thinking of you. Not only will she not be expecting it, it kicks off a fabulous romantic weekend just for the two of you.
Continue reading this article for great romantic weekend ideas you can share with your other half. There is also includes a handy guide to sending Valentine's Day flowers.
---
Florist Takes Design To New Heights At The 2011 Tournament of Roses Parade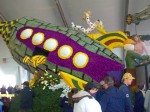 "It's something I've always wanted to do" says local florist Heather Miller-Beldsoe from Heather's Flowers in McDonough, GA. Heather was one of the hundreds of volunteers to help with Cal Poly's (California Polytechnic State University) award-winning float at the Tournament of Roses Parade in Pasadena, California. FlowerShopNetwork.com had the wonderful opportunity to talk to her about her experiences. Her friends back in Georgia told her, "You're either crazy or stupid to be going to LA by yourself!" but that didn't stop this Georgia girl from fulfilling her dreams.
"It was March or April of 2010 when I first started getting involved with it." Heather would constantly check on the progress of the float via their website. She submitted pictures and YouTube videos of her work, and in August it was official. She was definitely going to be apart of this iconic American tradition.
Continue reading about Heather and the Tournament of Roses Parade 2011 …

---
Let Tulips Suffice Until Your Lips Can Touch Hers!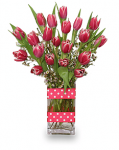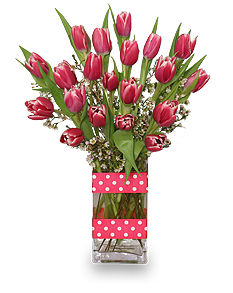 Now is the perfect time for you to surprise your lady with a little romance. Show her just how much you care by surprising her with romantic flowers either at home or the office. She will be tickled pink to get the love and recognition from you she really… really deserves. In this article, you will find lots of great ideas to get you started!
So, how do you spice up a long distance relationship?
That's easy! Do something completely romantic to show your long-distance-sweetie they are constantly on your mind. No one makes it easier than a local florist! Flowers never fail to bring romance and happiness to whomever receives them.
Read more about sending flowers to your long distance Valentine…
TIP FOR MAKING YOUR VALENTINES DAY FLOWERS LAST LONGER
Think twice before tossing the flower food provided by your florist! Flower food makes flowers last much, much longer, but be sure to follow the instructions on the packet! Keep the vase filled or floral foam soaked with water containing the flower food. If your water turns cloudy, it's time to change the water! Re-cut the stem for better water absorption.
WE'RE SOCIAL!








Love flowers? Follow us on the above Social Networks! We are always sharing the latest articles from our Bloomin' Blog, as well as the most fascinating news on the net!
JUST FOR FLORISTS
Florida Ferns Take A Blow, But A-Okay For V-Day
With record lows in December and over 18 days of subfreezing temperatures, it's no wonder Florida's fern crop has taken a blow. Luckily, the Valentines Day fern crop was mature enough to handle the rough conditions and will be just fine come February.
Scam Alert: Free Website Ends Up Costing You $$$$$$
Scammers are taking a different approach this time and hitting florists at the very essence of their business on a multiple order level – their websites. They are conning florists into switching their strongly performing e-commerce URL in exchange for a "free" website.
Aspects of Design: Floral Design Periods
Preparing for the future is always easiest when we know from whence we came. In floral design school? Need to brush up on your period pieces for a theme party? Interested in art behind what we do?  Whatever your interest, this information will help enhance your unique floral design skills.
FLOWERADE – Hydrate Your Creativity with the Florida State Florists Convention
We just got back from the Florida State Florists' Association's Mid-Season floral convention. The theme of the show was FLOWERADE – Hydrate and Refuel Your Creativity and the florists attending really did get refueled with creativity!
Fresh Spring Marketing & Promotional Ideas For Florists
Great ideas for florists to use with their spring promotions. Ideas for limited edition spring specials, spring cleaning and more!
Making Negative Reviews Work For You
Every business, no matter how professional and competent, will be on the bad end of a negative comment sooner or later. Studies show that when a negative review or complaint is handled professionally and positively, consumers actually gain trust in the company. Here are some tips on handling negative reviews.
Help make Flower Shop Network's monthly newsletter even better! Your opinion really matters to us. With your help, we can make the FSN newsletter just what you want and need. You can drop us a note in the comment section on the blog or email us at social@flowershopnetwork.com. We can't wait to hear from you!