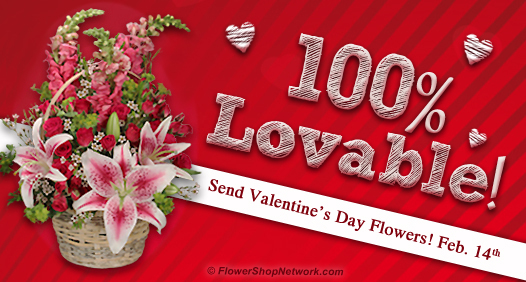 If you're reading this and have not decided on a Valentine's Day gift for your sweetie — what are you waiting for? Flowers are the quintessential Valentine's Day gift, and have been for generations. Trust me, you don't want your lady to be the only one at the office without flowers.
Why wait when you can be ahead of the game? Here's what to do:
Step 1: Use Flower Shop Network's handy local florist finder to find a florist in your city. (FSN verifies all florists in our directory are real local florists.)
Be aware, it's important to go directly to a local florist when sending flowers. There are third parties out there that pose as florists on the internet, will take your order, and then pass it along to a real florist to fill at a lower rate. By going directly to a trusted, local florist, you will get the best bang for your buck. Check out this article for more information: Local Florist Urges Local Shopping This Valentine's Day.
Step 2: Either call your florist directly or shop their official website for more of a visual selection. You might also consider stopping by the store for a more hands-on approach. Tell your florist about your sweetheart — her favorite colors, flowers and even styles — they can create something one-of-a-kind for your love.
It really is the thought that counts. Valentine's Day flowers don't always mean roses; if you know her favorite flowers, send those instead. Of better yet, send a replica of her wedding bouquet this Valentine's.
You will also need to choose a romantic card message.
Step 3: Once you've ordered your Valentine's Day flowers, you can kick back and relax. Your local florist will take care of all the rest, from presentation to delivery, you can rest assured your sweetheart's Day of Love will be a great one.
However, if you do want to take it a step further, you might consider making reservations at your favorite restaurant or getting her jewelry. Whatever romance you choose, flowers are the perfect way to start.