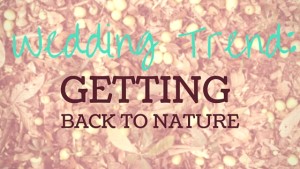 Getting back to nature is a growing movement.  We live in a fast paced world and many people have begun to see the beauty in slowing down.  This is also true for the wedding world.  Couples are choosing a more relaxed, natural atmosphere opposed to the old standard wedding structure of perfection.  
Out with the old, and in with the…old?  Brides are discovering "new" flowers that are actually heirloom flowers.  There are older varieties of mums, zinnias, and carnations (among others) that are making a comeback.  These older versions come in different shapes and more pastel colors that are a great match for the softer look many brides are trying to achieve.
With the rise of free seating and movement towards longer, rectangular tables, multiple centerpieces will take the stage.  These centerpieces are likely to include flowering branches and layers of greenery.  There will also be variations in centerpieces to create a loosely connected vibe, rather than identical pieces across the board.
Locally grown flowers native to the region where a couple will be getting married are becoming more popular.  Brides are choosing to have a free-flowing bouquet with a more organic look.  This also brings the introduction of other elements of nature, like sprigs of lavender or edibles.
Whether you decide to stick with a more traditional style or go au naturel, flowers add beauty to any venue.  For help discovering which flowers will make your day perfect, contact one of our local florists!