While 2014 has brought many trends to the wedding scene, what stands out the most is the versatility of the boutonniere. With flowers, brides are expressing their individuality and style, but that doesn't mean the guys can't show off theirs too! Here are some boutonnieres that will be making their way through 2015.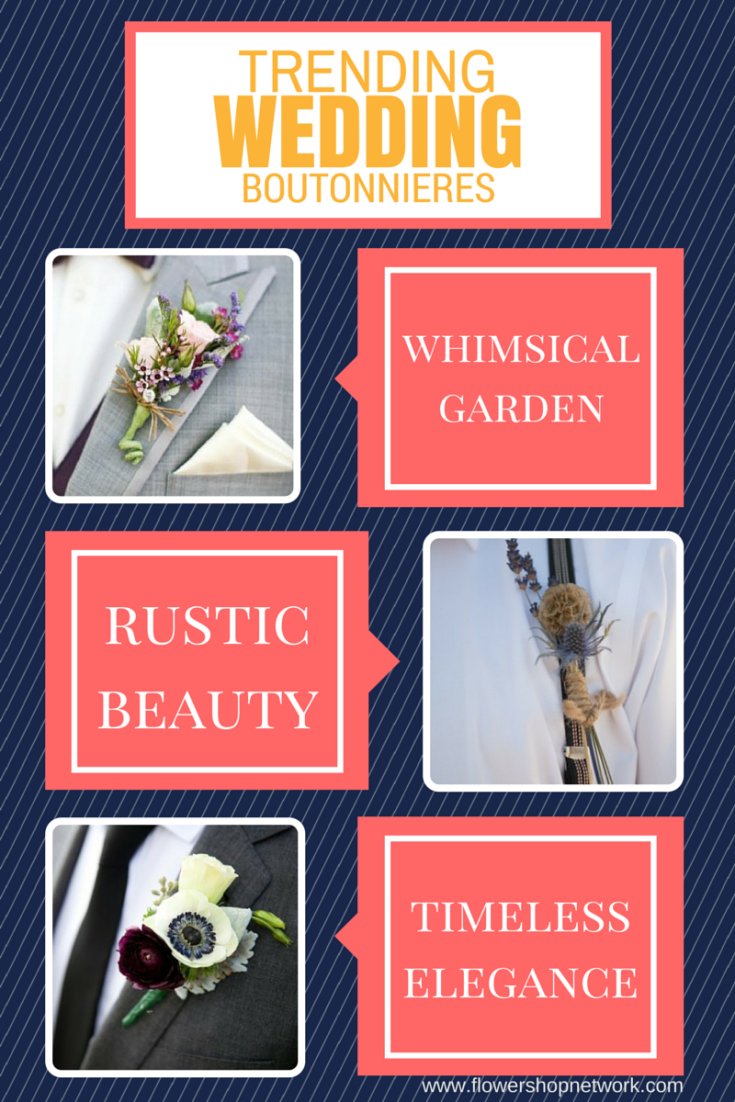 Whimsical Garden
The "freshly picked" look has become wildly popular in wedding bouquets and centerpieces, so it is no surprise that the trend continues on to boutonnieres. Bunches of greens with a variety of flowers draws the eye to an otherwise simple suit.
Rustic Beauty
The rustic style has already been wildly popular with brides and it also shows with the groom's boutonniere. Soft hues of pastels with neutral tones add to the rustic effect.
Timeless Elegance
Dark colors are known to preside over fall and winter weddings, but they are slowly making their way into summer. Dark purples and deep reds stand out fantastically on dark or gray suits.
Designing their boutonnieres make the grooms feel they are part of the wedding planning (and gets them pumped for the special day). The sky is the limit for these small designs and they can be personalized to fit the wedding style. Check back with the Bloomin' Blog for more great ideas!
Whimsical Garden photo accreditation to: weddingandpartynetwork/gallery/9155
Rustic Beauty photo accreditation to: weddingandpartynetwork/gallery/9451
Timeless Elegance photo accreditation to: weddingandpartynetwork/gallery/11328