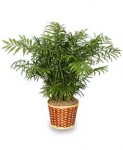 Ask the Expert: care of little parlor palm tree doesn't seem to grow, a few of leaves turn brown, Mary
Plant Expert Reply:
Parlor plams (Chamaedorea elegans) are plants that thrive in low-light, so exposure to bright light sources can scorch the leaves.  Lack of moisture can also cause brown leaf tips in a parlor palm. Since parlor plams like humid enviornments but not soggy soil, you will need to mist the air around the plant every so often.  Keep the soil moist but not soggy.
For the parlor palm to thrive rather than just live, you need to fertilze it with a balance fertilzer.  You can do this on a monthly basis or every time you water it. You will need to use a very light fertizer solution if you do it every time you water.
You might want to read the our parlor palm care instructions for more detailed suggestions.
Good Luck.  I hope this information has been helpful.