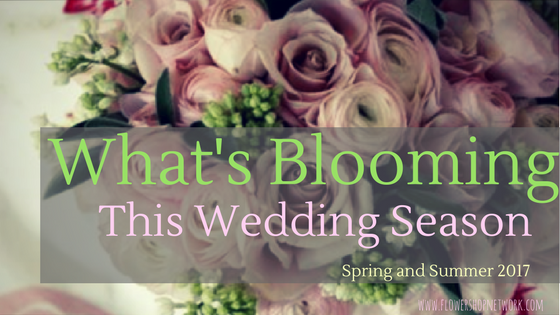 With spring and summer coming up, it's always good to know what flowers will be in season as you plan your wedding. You may have the perfect vision of what your wedding flowers are going to look like, but upon planning, discover that some flowers may be out of season. This could potentially conflict with your entire color scheme! This is when knowing what flowers are in season when your wedding takes place comes in handy.  That's why we put together the top 4 flowers that are in season for spring and summer. This will help you plan your wedding flowers with ease!
Spring
Tulips
Tulips are one of the beautiful classics because they come in so many different colors and are fairly easy to get your hands on!
Anemones
Anemones are gorgeous flowers for a rustic looking bouquet as they create a beautiful contrast with dark centers and white petals. This flower would bring in some life to a white bouquet as well with its dark center. Anemones also come in an assortment of other colored petals.
Ranunculus 
This stunning flower comes in just about every color and is very affordable. You can put ranunculus in any bouquet and it will look like it belongs. It is just a great all around flower with it's high petal count.
Lily of the Valley
This is a very common and popular wedding flower that will look elegant whichever way you choose to use it. It has a nice crisp, white color with a fresh scent to it, and it is great to combine with other colorful blooms! You get the whole package with this flower; you simply can't go wrong with Lily of the Valley!
Summer
Roses
The rose is the flower of love. If you are unsure of what to go with, roses are always a safe bet that everyone will be sure to love! As a very traditional wedding flower that comes in tons of different colors, it can belong in just about any bouquet. One thing to keep in mind is that since this is one of the most popular flowers out there, you will want to make sure to place your order with your florist early if your wedding is around certain holidays (Valentine's Day, Mother's Day).
Gerberas
These are another stunner! The gerbera comes in a multitude of colors and its symmetrical beauty goes great in bouquets and centerpieces.
Peonies
Very similar to the ranunculus, but slightly larger, the peony looks absolutely gorgeous in its blush pink color in a wedding bouquet. Don't worry, it comes in more pastel colors than just pink! This vibrant flower can easily take over the whole bouquet, so what's not to love about this lush bloom!
Dephinium
With flowers budding along its stalk, delphinium can add some character and variety to a wedding bouquet. Just as most of the other flowers on this list, delphiniums come in a number of colors with blue and pruple being the most popular choice. This flower would be great in a garden/forest themed wedding!
Hope these 8 flowers have given you some inspiration and can aid you in your search for the perfect wedding bouquet!
Planning a spring or summer wedding? Find your local florist to discuss options for your wedding flowers!