Flowers have magical powers that can turn a woman's day around in an instant. Many women though only receive this special, beautiful gift once a year, maybe twice if they are lucky!
Don't worry men! We know that sending flowers can seem like an overwhelming task, but we are here to help you out. Sending flowers to your significant other on a day other than your anniversary or Valentine's Day can really help strengthen a relationship. Take a look at the list below. It shows five times throughout the year you can send a woman flowers without a special occasion. She will be blown away by your thoughtfulness!
1) To Help Ask For Forgiveness
You have said you are sorry but she still seems to be upset. Most likely this is because she just needs time to get over it. A nice way to help her find forgiveness in her heart is through a thoughtful gift. When she sees a dozen beautiful roses waiting on her desk in the morning she will think fondly of you and have a smile on her face. Remember though that sending flowers will suffice if you have not apologized in person.
2) To Support An Accomplishment
Sending a flower arrangement when your significant other achieves an accomplishment is a great idea for many reasons. You are showing her that you are proud of her, you are congratulating her on her success, and you are showing her that you support her dreams. This circumstance could be a graduation, getting a new job, or finishing a big project. This act of kindness also contributes to the, "Happy Times Principal."
We all have a friend who never wants to hang out, but only calls when he wants something? Annoying, right? Well, it's the same idea when it comes to giving a girl flowers. You can't just give her flowers when you want something or when times get tough. Early on, you need to set a precedent, by giving her flowers when things are good. This creates an association: "Flowers = Happy Times". Then, when you make her mad or get in a fight, you can buy her flowers to recall those happy times.
This is what Primer Magazine calls the, "Happy Times Principal."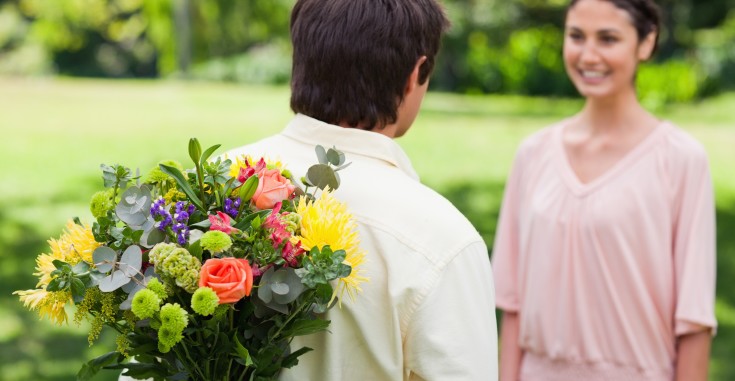 3) To Wish Her Luck
A beautiful bouquet of flowers can give a woman the encouragement she needs when she is facing a nerve-racking situation. For example if it is her first day at a new job, or if she is about to go to an important interview, she will be comforted knowing that your thoughts are with her.
4) When Her Confidence Is Low
If the woman you care about is struggling with self-confidence and has a low self-esteem, a beautiful bouquet will help lift spirits.  Flowers are actually scientifically proven to improve mental health. Surprise your significant other in the morning or when they come home from work. Add a sweet card message to really show how you feel.

5) To Say You Miss Her
Women desire to know that they are wanted and loved. Spending time apart is always difficult and it can be hard to find time to talk. If your significant other has to go away for a conference or a trip, send her a lovely flower arrangement to remind her that you miss her. Your sweet gesture will keep her smiling even though you are not there.
Step up your game and find the perfect flowers for your special someone today!