Winter Inspiration = Wintspiration!

Winter is the time of year where we spend much of our time indoors. Luckily there are tons of holidays and celebrations during this season to encourage family togetherness and spending time with friends. Decorating with fresh flowers in the winter brings added warmth and happiness to everyone. It is simply not possible to feel the blues around an incredible bouquet of winter flowers. In this post you will find lots of great ideas and the perfect wintspiration to get you started!
FSN's Favorite Flower Arrangement For January
Here at Flower Shop Network, we hope you had a GREAT New Year's Day! Now's the time to start the new year off right with a beautiful flower arrangement! Flowers are a great way to keep ourselves bright and cheery through the winter. The beautiful delphiniums might be blue, but they are also the perfect cure for the winter blues.
Send this unique winter flower arrangement to your someone special and cure someone of their winter grumps too!
Winter Romance: Create Some Heat With A Radiant Bouquet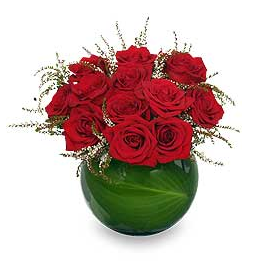 It's January and hustle and bustle of Christmas is finally ending. Now is the perfect time for you to surprise your lady with a little winter romance. Show her just how much you care by surprising her with romantic flowers either at home or the office. She will be tickled pink to get the love and recognition from you she really… really deserves. In this post, you will find lots of great ideas to get you started!
Read more about sending flowers for a little winter romance…
---
FSN's Favorite Flower For January: Delphiniums
For our favorite flower this month, we chose Delphiniums. Their rare, winter-blue colors and love of cool temps make them a perfect choice for January flower arrangements. A favorite among florists, these little beauties look fantastic in floral designs. Read all about this fascinating flower in this article!
Often called larkspur, the Delphinium is a genus of mountain flowers found throughout the northern world, and in some mountainous parts of Africa. They are called larkspur because of their unusual spur-like flowers. The front of the flower looks normal, but behind the petals there is a little spur sticking out, making it look like a winter elf's cap.
Read more about our favorite January flower: Delphiniums…
---
Best of the Best 2010



We post a TON of great articles here on the Bloomin' Blog, and we realize it might be a little hard to keep up. That is why we've created this post — the Best of the Best articles from 2010! (Just in case you missed one!) From prom ideas back in April, to poinsettia posts in December, the best way to start the New Year is a look back at the past.
Find out more about FSN's Best of the Best 2010…
---
Innovative Florist Working To Make Flowers A Staple In Her Community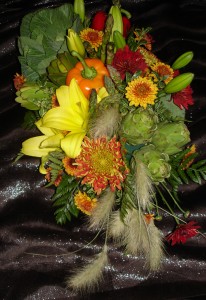 Flowers On Main in Placerville, CA has been doing some wild and crazy things in their shop! Twice a month they invite their community into the shop for a hands-on flower workshop. Each guest has the rare opportunity to (with helpful guidance) build their own floral design to take home and enjoy.
Judie, the owner of Flowers On Main, says the classes are an absolute hit in her community. The program has been running for about 3 years now and she has seen guests of all ages and from all walks of life. Many are regulars and attend every single class.
Each class normally…
Continue reading about flower shop workshops …

---
Every week our Plant Expert answers YOUR most challenging plant care & identification questions.
Ask the Expert: What should I be doing to my azaleas now?

My azaleas have not been doing as well as I like. When do we fertilize them and what pointers will help me to care for them? My Azaleas are planted outside. They are about 2 1/2 feet high and look healthy but I have not been getting flowers in March as in the past. I live in South Carolina. When is the time when they should be fertilized and when does one do it? Also, when do you trim the bushes and how to prepare them for the winter? Thank you so much. Frances

Flower Shop Network Plant Expert Reply:
Don't be alarmed at the lack of blooming this past year. Occasionally azaleas will be thrown off by inconsistency in the season – too cold, too wet, too dry too hot. However, if the problem persists for more than one year an issue may exist that needs to be corrected.
To determine what the problem is, we must first evaluate all the factors that contribute to blooming.
Read more about winterizing azaleas…
QUICK FLOWER CARE TIP
As the life of your flower arrangement comes to an end, remove any wilted or dead flowers. Rotting stems and leaves can release toxins into the water. Change your water every 2-3 days using preservative. Re-cut the stem for better water absorption.
WE'RE SOCIAL!






Love flowers? Follow us on the above Social Networks! We are always sharing the latest articles from our Bloomin' Blog, as well as the most fascinating news on the net!
JUST FOR FLORISTS
New Spin On An Old Scam: Florist Beware
Florists should beware of any email or phone call wanting the florist to provide large orders that will be picked up by a private shipper. Below is the scam email florists are receiving.
Predict What's Hot For 2011
2011 is looking to be a HOT year. Last summer's trends were all about bright, BOLD colors and dynamic patterns. Do you think this will change in the upcoming year, or stay the same? Click to read a few of my predictions for 2011.
Out With The Old, In With The Hues
2011 is citing exotic elements of luxurious artistry in foreign lands like Africa, India, Peru and Turkey as inspiration for this year's color trends.  These color palettes are BRIGHT and bold! As shown below, tropical, fun and whimsical sets the overall tone for a year of color indulgence.
Spice Up Your Winter Vases With This Technique
If you're looking for a little something extra to spice up your holiday flower arrangements, try this cinnamon vase technique!
What do you think of Flower Shop Network's new monthly newsletter format? Your opinion really matters to us. With your help, we can make the FSN newsletter just what you want and need. You can drop us a note in the comment section on the blog or email us at social@flowershopnetwork.com. We can't wait to hear from you!