YELLOW was definitely the hottest trend for floral designs at the Texas State Florist Convention just a couple of weeks ago. So many designs used the color, and why not? Yellow is the perfect color for summer! Sunflowers were one of the most popular flowers used.
Hottest Floral Trends For Summer 2011: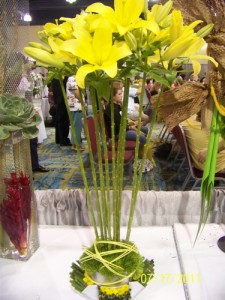 Brighten up any space with a bouquet of yellow blooms! Trendy yellow flowers keep us in a cheery mood, and are perfect for sending as a quick pick-me-up to someone who may be feeling a little blue. So give your local florist a call, and order a bunch of brilliant yellow blooms for yourself, or a special friend.