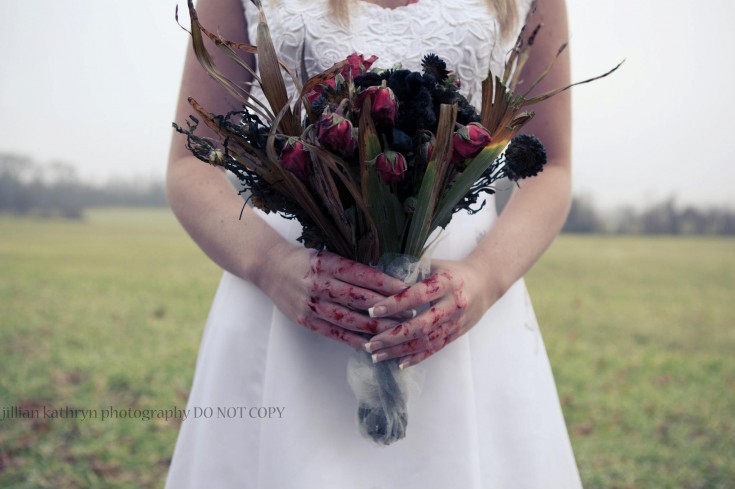 This unique wedding story was shared with us by local flower shop, Mullica Hill Floral Co. in Mullica Hill NJ.
"Last week we received a call from our friend Jill at Jillian Kathryn Photography. She had entered a zombie-themed photography contest and decided to create a zombie wedding. In need of a bridal bouquet, she called on us, and we were more than happy to help!"
How The Zombie Bouquet Was Made
"The bouquet consists of dried celosia, yarrow, cockscomb and straw flowers, which were sprayed black to achieve a moldy look. Also included are red spray roses, which were left out of water so they could wilt. The bouquet is framed with dying ginger leaves. I used white tool to wrap the bouquet, then used a light coating of black spray paint to make it appear dirty. As a final touch, I took a knife and shredded the tool ribbon to further keep with the theme."
"I had a lot of fun creating this bouquet and I can't wait for future challenges!"
Anything zombie-themed is so trendy right now. With all of the popular movies and TV shows out. it's easy to see why. This story just goes to show you that you're local florist is there to help you make your wedding dreams come true.. No matter how far towards the nightmare side your dream might be. Has any other florist-readers out there had a similar challenge? Don't forget to share your story!
How would you create your zombie bouquet? Tell us in the comments below!