Weddings And A Touch Of The Tropics
Many brides and grooms are looking for the unusual and the exotic in flowers for their wedding. They desire something that strikes their wedding guests as exceptional. Tropical flowers bring the WOW to weddings. As I think back on all the weddings I've attended over the years, it is only the Hawaiian themed wedding that I remember vividly. In fact, the red ginger flowers made a huge impression on me. So much that I thought to myself, "Why did I go with the beautiful red roses for my wedding instead of these gorgeous tropical flowers." I could kick myself for not going bold and exotic. After all, the tropical flowers at this particular wedding were outstanding.

We often think that tropical flowers are difficult to obtain or maybe not traditional enough for a customary wedding, but tropical flowers can and do work with other conventional flowers. A rose of any color mixed with coordinating cattleya orchids, makes a traditional bridal rose bouquet extraordinary. No one should be afraid to experiment with traditionally known wedding flowers such as carnations, roses, gerberas and babies breath mixed with Bird of Paradise or anthuriums. Even the foliage of tropical plants mixes well with traditional flowers. Think of the exquisite tropical centerpiece arrangements that can adorn your wedding reception tables.
Summer weddings especially lend themselves to the tropical flower theme. With the vibrant strong colors that almost all tropical flowers possess, they won't hide in the corner. Passion and beauty is what they will announce as a key component of summer wedding bouquets. Tropical Flowers easily transition into wonderful fall wedding flowers options. Orchids especially work wonderfully with other fall flowers to add a little exotic flare.
Tropical Flower Ideas For Weddings
The best aspect of tropical flowers is the unusual shape. The Bird of Paradise with its unusual flower works well for a groom's and groomsmen's boutonnières. If you find the standard Bird of Paradise to be too large you can get a mini (dwarf) Bird of Paradise. Unconventional use? Certainly but it works well. For the guys who don't want to wear a flower, this is the answer.
Pineapples, bromeliads and protea are excellent candidates for reception table centerpieces. For example, position a few proteas at the base of the pineapple stem as it lay on a bed of tropical foliage. Create an unusual wedding centerpiece with clean and crisp lines. Although this tropical flower arrangement is very simplistic in design, it will have a strong visual impact without obstructing any viewpoints. Any combination of these tropical flowers is a wonderful and unique way to really bring the tropical feel to your wedding receptions. While bromeliads are often used as a potted plant they can easily be incorporated into your wedding decorations. The colorful bloom and striking foliage produce an amazing visual display. Florists can design floral arrangements that incorporate the potted bromeliad. Potted bromeliads can be neatly decorated on wedding reception tables and later given as wedding favors.

Choose a lei instead of traditional flowers for the bridesmaids, or even go all the way and give your guest small leis called kupe'e that are to be worn on the wrist or around the ankle if at an informal wedding. The kupe'e can be your wedding gift favors. Traditionally lei's are made from orchids, but you can use roses, ginger, maile, or any other flowers or a mixture of flowers you can string together.
The use of anthuriums "Haitian pink" in a wedding bouquet makes a stunning non-traditional but elegant brides bouquet. The anthuriums' heart shaped flowers, and the beautiful light pink color will coordinate with any color wedding dress the bride wears or even the bridesmaids' dresses. If you dislike pink choose any of the other anthuriums. They come in red, white or even a tropical color that lightly fades from pink in the middle to green on the outer most of the flower. Any choice of a tropical flower or a concept of an arrangements or bouquets can be done, it's all in the creative way florist do their work.
Tropical Flower For Parties and Just Because
One thing we know about tropical flowers is that they are unusual, exotic and used infrequently. We all tend to opt for traditional. Tried-and-true works well, but we have to admit that it is easy. It's time we all think out side the tried-and-true box and go with the exotic, the remarkable, the extraordinary, tropical flower arrangements. Just as I was mesmerized by the red ginger at the wedding, tropical flowers captivate us because they are new to us. Though I didn't know what they were at the time, I took the time to find out because they caught my eye. Putting a tropical flower arrangement of anthuriums, orchids, and Birds of Paradise will not only look grand, but will certainly make for great conversation pieces at any party. Guests will be curious as to the type of flower or that and who did the arrangements. That is the WOW factor of tropical plants.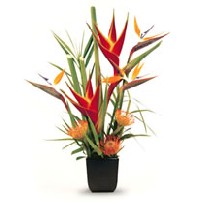 Choosing a tropical arrangement of orchids mixed with other exotic flowers and giving them just because will be well received and talked about for months on end. Maybe you want a plant and not just a flower arrangement. In that case, tropical plants are another wonderful gift to send. A gloriosa lily, a striking plant that has a flower that has gold based flowers with crimson tipped ends, is an absolute tropical beauty. The gloriosa plant is best suited to mild climates for outdoor planting or it can be gown inside as a potted plant.
The use of tropical flowers for a party, wedding or flower arrangement will bring a WOW factor to any occasion and will brighten up any décor. Everyone should explore the world of tropical flowers and plants. Why not celebrate their uniqueness and exotic looks? Not ready to move completely out of the tried-and-true box? Well spice up a traditional styled arrangement with tropicals. Come on. You know that you want to. Just a few here and there and you'll be exploring the ever-growing world of tropical flower arrangements.
Contributor Leigh Morrisett
Photos Provided by Aloha Flower Leis – One of Flower Shop Network's Honolulu Florists.
Need to send a tropical flower arrangement to someone? Check out the following: Tropical Getaway flower basket arrangement Tropical Flair. Tropical Tribute