September 22, 2014 By Ed Belly 3 Comments
Flower Shop Network and FloralStrategies are offering 4 complete webinars which feature the one and only Tim Huckabee* FREE to the florist who submits the best and most useful tip or trick. Each of these webinars retails for approximately $100. But you can win all of them, a $400 value, for FREE!
Today's Headline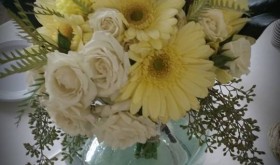 October 17, 2014 By Ed Belly
Fall wedding season is beautiful, as is any other floral arrangement made this time of year. The oranges and reds, the explosions of color, it all comes together to make some of the most gorgeous floral work you'll see all year, and we have it right here! Scroll through and imagine the delicate fragrance of fall. Video Slideshow Wedding … [Read More...]
Flower Gift Ideas

October 8, 2014 By Ed Belly Leave a Comment
Boss's Day is October 16th, and if you have yet to choose the perfect gift, now is definitely the time to get started. And don't worry if you're having trouble coming up with ideas. Your local florist has everything you need to make your boss's day one she'll never forget!

October 2, 2014 By Ed Belly Leave a Comment
Sweetest Day is a great holiday for the chocolate and candy lovers of the world (of which there are many). Not that those of us who enjoy a little something sweet now and again ever really need a reason to partake of our favorite confection, but a convenient excuse to help assuage the guilt is always welcome.
September 24, 2014 By Ed Belly Leave a Comment
Every month has great reasons to send flowers. Here are five for October we think you're going to love. And remember, you don't have to wait for one of these special days. You can send flowers anytime!