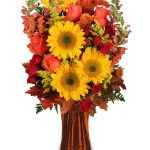 November 12, 2014 By Ed Belly Leave a Comment
With Thanksgiving Day just around the corner, it's time to think about how you want your home to look as your family sits down for the Thanksgiving feast. Do you want them to be surrounded by gorgeous fall colors and decorative foliage? Do you want an impressive centerpiece for your table? How about a fall-themed wreath for the door?
Today's Headline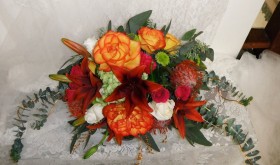 November 21, 2014 By Ed Belly
This week brings many instances of unbridled floral beauty. From gorgeous wedding pictures to breathtaking special occasion and elegant sympathy, I think you'll agree that all of our featured florists have really outdone themselves. Sit back and enjoy these beautiful instances of artistic expression! Video Slideshow Wedding … [Read More...]
Flower Gift Ideas

November 19, 2014 By Ed Belly Leave a Comment
Flowers not only make for amazing decoration, they are also a fantastic way to say thank you. And what else is Thanksgiving Day for if not the giving of thanks to those who've helped make our lives better throughout the year? This year, give thanks with the beauty of flowers!
November 4, 2014 By Ed Belly Leave a Comment
November is a great month for flowers, (so is every other month, but I digress) and we've got some great reasons to visit your local flower shop!

October 29, 2014 By Ed Belly Leave a Comment
Halloween is almost here, but there's still time to order flowers! Whether you need them for party decorations or as a gift for your host/hostess, your local florist is ready to make it happen. So walk down to the corner flower shop or give them a call and let them make the prospect of planning your Halloween decorations a little less scary.