August 27, 2014 By Ed Belly Leave a Comment
Labor Day is a day to honor the contribution of America's workforce. Take this chance to say, "Thank You" to those whose hard work helps or has helped make our own lives easier, and maybe take a little time for yourself.
Today's Headline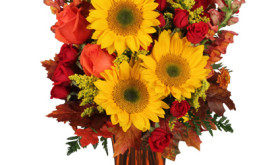 September 2, 2014 By Ed Belly
Jaime Koller first worked in a flower shop over 29 years ago. She was newly married, trying to make ends meet and doing the grunt work, but she loved working with flowers. Even after she left, bought a print shop with her husband and became a success in the printing business, her flower shop experience was one she never forgot. The Dream Lives … [Read More...]
Flower Gift Ideas

August 28, 2014 By Ed Belly Leave a Comment
Not that you ever need an excuse, but in case you want were looking for some ways to justify the expenditure, here are 5 GREAT reasons to send flowers in September! And remember, your local florist is always your best option.

July 31, 2014 By Ed Belly 1 Comment
August is a month of lesser known holidays, and that makes it a great month for flowers. Imagine the look on your friend, sister or favorite senior citizen's face when you show up at their house with a gorgeous arrangement to honor them on a day they weren't even aware existed? Get ready to buy some blooms and spread some smiles!
July 3, 2014 By Ed Belly Leave a Comment
With the 4th of July exploding on the scene like the cavalcade of fireworks sure to accompany it, this is your last chance to buy those gorgeous Independence Day flowers. But don't worry, even this tight turnaround is more than doable for your local florist.