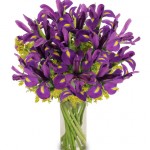 April 2, 2014 By Ed Belly Leave a Comment
Easter is a great time of year for fabulous flowers. Contact your local florist for more information about how they can help you make this Easter one to remember!
Today's Headline
April 18, 2014 By Ed Belly
Here we have a beautiful collection of floral arrangements gathered together for your viewing pleasure. These florists have worked hard to create some absolutely amazing pieces, and we are always happy to share those gorgeous creations with you. So get comfortable, get your clicking finger ready and enjoy this magnificent collage of color! Wedding … [Read More...]
Flower Gift Ideas

April 16, 2014 By Ed Belly Leave a Comment
Easter is almost upon us, and if you're wanting to get that corsage for your mom or wife or that beautiful Easter arrangement for your Significant Other, time is running out. Most florists won't be open on Easter Sunday, so you'll want to get those orders in as soon as possible.

April 14, 2014 By Ed Belly Leave a Comment
It's the time of year to stop and say, "Thank you" to all the men and women who bend over backwards every day to meet your needs at the office. They file insurance claims, balance your books and maybe even fetch your coffee. They are the glue that holds the office together. They are … your administrative professional.

April 8, 2014 By Ed Belly Leave a Comment
If you watched the Game of Thrones season 4 premier, (Don't worry if you have yet to see it, we won't spoil you here.) you may have spotted a lovely arrangement of red, white and blue flowers gifted to the Khaleesi. What would make a better gift to a fan of the show than giving them a recreation of that arrangement for their very own?