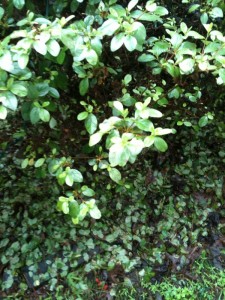 Ask the Expert: Leaves falling off established azaleas
the azaleas in the front yard that have been in place for many years are suddenly losing their green leaves. any ideas.i am attaching two pics. Tim
Plant Expert Reply:
It is hard to tell from the picture. If the leaves are dropping from the bottom of the azalea, you have a pruning issue.  See how the top of your azalea is shading the bottom. The top should not be wider than the bottom. When the top of the azalea is wider than the bottom, the lower leaves will become too shaded and drop off. That is why proper pruning is important. Most plants do better if trimmed like a pear shaped woman – fuller at the bottom and gradually narrower at the top. This will allow sunlight exposure to all the leaves.
Other issue that cause azalea leaves to fall off are: too much water, insect damage, chemical damage.
If your area has been experiencing usually heavy rain fall, the azalea will start to drop leaves. Azaleas become stressed in soggy soil. When in stress they will drop their leaves. Correction for this problem is a well-drained soil or enough time for the area to dry before another rain or watering.
There are a few insects that will attack azalea and can cause the leaves to fall off. Lace bugs will give the azalea leaves a lacy pattern and can cause some of the leaves to drop off. Correction for this problem is to use the appropriate insecticide and a treatment of fertilizer.
Some insecticides and pesticides if not used properly can cause azaleas to drop their leaves.
In your case, I believe you have a water issue or a pruning issue.
This plant problem question was brought to you by Shreveport Florists.