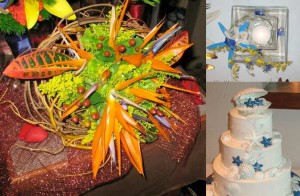 With the Pensacola Beach only 20 minutes away, its easy to see where this Florida flower shop gets it's inspiration.
The fantastic designers at Blooms A Million in Pensacola are passionate about involving local flavor in everything they do.
Rodney is a Texas Master Florist, Florida Master Designer and a 3rd generation florist. He also employees another Florida Master Designer and 3rd generation florist in their shop. "We have a wealth of talent here." Being located in a city with so many different styles and influences, diversity is this flower shops biggest asset. Rodney and his team can create fun and funky arrangements for a casual beach wedding, then turn around and design something magnificently formal for one of the very old churches in Pensacola.