Louisville

Flower Shops En Español?
BRUNDIDGE FLORIST
104 S Main St
Brundidge, AL 36010
Minimum prices are shown in US dollars, do not include delivery charge and will vary during holidays.
BRUNDIDGE FLORIST offers these additional floral products and services:
Wedding Flowers
Gifts
Wedding/Bridal Gift Registry
Tropical/Exotic Flowers
Silk/Artificial Flowers
Baby Gifts
Stuffed Animals
Candy/Chocolate
Home Decor
Greenhouse/Nursery
Greeting Cards
Scented Candles
Your local full service florist in Brundidge, Alabama
Don't forget to send flowers in Louisville, AL
for these Holidays!
Christmas - December 25th, 2018
Call your local Louisville, AL florist and send a gift of flowers along with warm holiday wishes for Christmas, Dec 25th, 2018.
Valentine's Day - February 14th, 2019
Let your Sweetheart know how much you love them on Valentine's Day, Feb 14th, 2019 by sending flowers from your local Louisville, AL florist this year!
Easter - April 21st, 2019
Celebrate the beauty of springtime this Easter, Apr 21st, 2019 with a gift of flowers from your local Louisville, AL florist.
Admin Professionals Day - April 24th, 2019
Secretary & Administrative Professional's Day is Apr 24th, 2019 and to show appreciation for their hard work and dedication, send flowers from your local Louisville, AL florist.
Mother's Day - May 12th, 2019
Show love and gratitude on Mother's Day, May 12th, 2019 by sending your Mom flowers from your local Louisville, AL florist. Please order early for best results!
Father's Day - June 16th, 2019
Brighten Dad's desk at home or the office with flowers or plants from your Louisville, AL local florist this Father's Day, Jun 16th, 2019.
Grandparents Day - September 8th, 2019
Remember your grandparents in a special way this Grandparents Day, Sep 8th, 2019. Lift their spirits with flowers from your local Louisville, AL florist.
In A Hurry?
Send Flowers Now!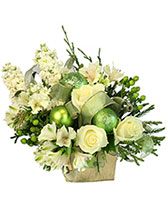 Send
Christmas
Flowers in Louisville.
Click and let us find a real local Louisville florist for you!
Recent Reviews of Louisville Florists
Help Us Help
You

!

Let the Louisville florist you connect with know you found them on Flower Shop Network!