This is a note sent out by  Bob Heffernan the Executive Director at Connecticut Floral Association (CFA) concerning the tragedy this week in Connecticut. If you or someone you know could help with these points, please email the contacts below. If you would like to send a donation, you can do so via the Michigan Floral Foundation, details at the bottom of this post.
 Connecticut Floral Association Special Notice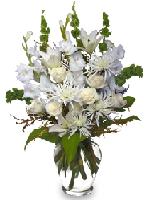 Because there is the potential for a huge amount of funeral flowers this week for the funerals of the victims of the Newtown school murders, CFA will coordinate our industry's response:
Volunteer designers. There's only one real florist in the town (Newtown Florist) and one funeral home. They may be overwhelmed with orders on this, the busiest week of the year. If you would like to be on a stand-by list to volunteer for design help, please send an email to ctflorists@aol.com.
 Assistance to Newtown families in need. We don't yet know if there are lower-income families of the victims. There could be a major draw on flowers for memorial services. President Obama may also come to Newtown. If you are a wholesaler who would like to make donations of flowers or product, OR if you simply would like to contribute to providing the funeral pieces in some other way (financial, product, etc.), please send an email to ctflorists@aol.com.
We all know that flowers can and will ease the pain of the families and loved ones of the Newtown victims, as they do for every other person who suffers a great loss.
Send Your Donations via Michigan Floral Foundation
The Michigan Floral Association has established an account for cash donations to be used to help the CFA provide for the victim's families that are in need. If you would like to make a donation please make checks payable to the Michigan Floral Foundation and note CFA on the memo line and mail to MFF – PO Box 67 – Haslett, MI 48840.
If you would like to use a credit card please call Cindy at the MFA office (517) 575-0110. She will be able to assist you over the phone. The MFF will send 100% of your donation to the CFA to help with their efforts. You may also contact Cindy via email here cindy@michiganfloral.org.
Thank you for your support, this is going to be a difficult week for our industry friends in Connecticut. Thanks so much to Rodney Crittenden for sending this to us so that we can share with others.