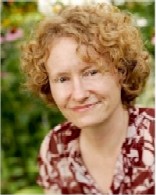 Florists and the Wonderful Things They Do!
I came to the fascinating world of flowers as an outsider – as a writer and a gardener who was curious about where her flowers came from. That curiosity led me to visit an open house at a flower farm (Sun Valley Floral Farm in Arcata, CA) and from there I was hooked. I knew that I wasn't the only one who had bought flowers dozens of times without ever thinking about the greenhouses, laboratories, warehouses, and flower shops that all fit together, like some kind of intricate puzzle, to deliver my bouquet to me. I thought, if I could follow the journey that flowers take around the world, I could inspire other people to have a richer appreciation for the tulips on their kitchen table or the roses on their desk at Valentine's Day. That's why I wrote Flower Confidential.
Along the way, I've gotten to know a lot of retail florists. They shared their stories with me, telling me what it was that first got them excited about flowers, and helping me to understand what kept them going in spite of the long hours and the frantic holidays. I met florists who cater exclusively to celebrities; florists who create extravagant arrangements for hotels like the Waldorf Astoria in Manhattan; neighborhood florists running businesses that their grandparents started; and young, energetic flower farmers growing unusual, organic varieties that they sell at farmers markets or arrange for a select group of clients.

So what can you expect to find when you visit your hometown florist? Here are just a few examples of what florists all over the country are doing this year:
Getting to know you. If there's one thing the florists I've met have in common, it was their human touch. Florists are with us at some of the most emotional moments of our lives – weddings, funerals and celebrations of all kinds. They get a feel for what's right in a given situation. Rather than call and order a dozen red roses, just tell your florist something about the person who's getting the flowers. "These are going to my mother; who after returning from France remodeled her kitchen in blues and yellows to remind her of the French countryside." A florist will do a fantastic job of choosing exactly the right flowers for that situation. Giving the florist some room to make his or her own choices, also, means that you'll get the freshest flowers and the best values for your money.
Taking you behind the scenes. Wineries give tours of their winemaking facilities and vineyards. Chocolate factories open their doors to tourists. Five-star restaurants set up a table for their best customers in the kitchen. (That's right – people make reservations months in advance for a chance to eat in the kitchen and watch the chefs work at world-class restaurants). But people in the flower industry often told me, "You know, we forget how interesting this business might be to people who've never seen it before."
Florists have realized that their best customers are the ones who enjoy a behind-the-scenes peek at the workings of a flower shop. In fact, many of us fantasize about opening a shop of our own someday! I've met florists who give their customers a chance to "play florist" for the day. Here are just a few of the approaches I've seen:
Setting up a flower-arranging station on the sales floor so that customers can make their own bouquets using the tools "the pros" use.
Leading a tour through the local wholesale market, letting customers see how they make buying decisions for the store and select the highest quality products.
Offer flower-arranging parties for bridesmaids, garden clubs, or other groups. One florist hosted a "guys only" event on February 13, complete with beer, pizza, and a visit from a local pro football player (who just happened to be the brother of one of the employees). Next year, they plan to host it off-site at a local barbershop, another guy-friendly location where the sinks and tile floors will make clean up easy.
Going local and going green. Many florists I met were very involved in the "local first" movement in their hometown. Locally owned bookstores have taken the lead in this movement that encourages people to shop local first before hitting the big box stores. Studies have proven that locally owned businesses provide more jobs and help grow the economy as compared to the chains. Shoppers are taking the "buy local" message seriously, and many of us try to shop locally whenever we can.
One florist stays open late, one Thursday night a month, to be part of his downtown's Art Walk, a monthly event in which local businesses hang art by local artists on the walls, serve wine and cheese, and chat informally with their customers. The florist displays floral-themed art, hands out free flowers, and pours Champagne.
Another florist saw the connection between "buy local", "support local farmers" and "go green". She approached local, small-scale flower farmers about offering a 100% organic, locally grown bouquet of fresh field flowers in summer, and potted blooming plants or dried wreaths in winter. That local connection attracted people who loved shopping at the farmers market, but wanted a way to buy those flowers for special occasions, too. Many florists are also starting to highlight bouquets from around the world that are grown with eco-friendly and worker-friendly practices and even offering "green wedding" or "green event" packages.
It's been a real gift to get to spend time in flower shops over the last few years. Even now, when I'm traveling around the country speaking to garden clubs and industry groups, I still look for an opportunity to drop in at the local flower shop and see how things are going. I continue to be amazed and inspired by the creativity and passion that florists put into their work. I don't know where my next book will take me, but I doubt I'll find another business as dazzling and intoxicating as the flower industry.
Guest Contributor: Amy Stewart

Amy Stewart is the author of Flower Confidential: The Good, the Bad, and the Beautiful in the Business of Flowers (Algonquin Books, 2007) and Dirt (her blog).
If you enjoyed this newsletter send your comments and suggestions about it to the Bloomin' Blog – The Wonderful Things Florists Do.
You can,also, read more about florists and how they work for you in Top Ten Reasons To Order Flowers From A Real Local Florist or There's More Than Flowers At Your Local Florist.