Princess Diana's cascading wedding bouquet of plush roses, white orchids, and myrtle stunned the world. Cascading wedding bouquets are back in style this year with a fresh new look. Brides are wanting a looser whimsical vibe for their weddings and this bouquet shape helps achieve that effortless beauty. Here are three types of cascading bouquets that brides are looking for this year.
Whimsical
Achieving a free-flowing whimsical look can be difficult but adding lush greenery will give the arrangement artistic charm and shape. This style is a great compliment to lace wedding dresses and outside ceremonies. This unique arrangement bursting with blooms is sure to stun your guests and bring your wedding to life.
Photo courtesy of  Shadeland Flower Shop in Indianapolis, IN.
Elegant
The cascading bouquet used to only be used in very formal and traditional weddings. Today though we see this updated style being used in a variety of wedding themes. The waterfall dimensions and natural flowing look make a romantic elegant statement during a bride's walk down the aisle.
Photo courtesy of By Special Arrangement in Lagrange, GA.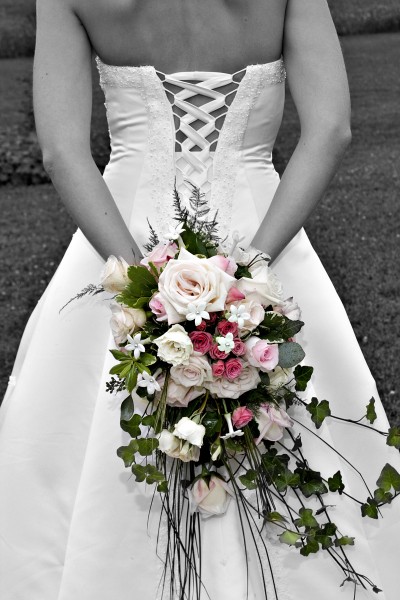 Photo courtesy of Hearts and Flowers in Charlottetown, PE.
Traditional
While the cascading bouquet has an updated look and style, the traditional arrangement of lush white blooms is still very popular. This dramatic bouquet creates romance and is perfect for grand fairy-tale weddings.
Photo courtesy of Hearts and Flowers in Charlottetown, PE.
The cascading bouquet is so popular because of its dramatic shape and appearance. This style has stood the test of time and will continue to be chosen by brides for its grace and splendor.
If you're looking for a florist for your wedding day check out our floral directory where you can find local florists that fit your budget!