With the great success of the first one, FSN is PROUD to bring you the NEXT Design Inspiration Challenge! Florists everywhere are buzzing about this new Challenge, we hope to see designs from each and every one!
BUT FIRST….
And now…
The WINNER of the very First
Design Inspiration Challenge: van Gogh

—
MaryJane's Flowers & Gifts!

Congratulations are truly in order!! The race to the finish line was intense — She had 116 final votes!! It really was a surprise photo finish! MaryJane's Flowers will be recieving a great Flower Shop Network tote bag and awards certificate. PLUS, she is now entered to win our GRAND PRIZE at the end of summer.

We Would Also Like To Recognize Our Great Entries:
1st Runner Up – Hope Florist – 113 votes
2nd Runner Up – The Enchanted Florist – 93 votes
3rd Runner Up – Every Blooming Thing – 87 votes
We think everyone did a FANTASTIC job on their arrangements. FSN would like to thank everyone who was a part of this first contest!
NOW BACK TO…
THIS WEEK'S INSPIRATION CHALLENGE: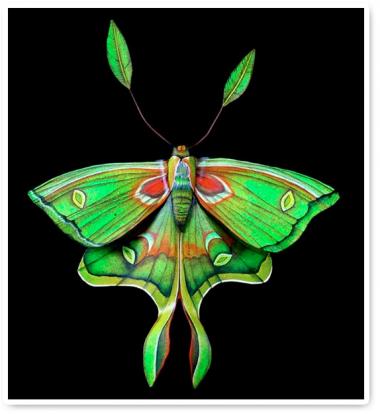 We wanted to pick something completely different for this week's challenge, and this is about as different as you can get! This may look real, but it is actually a metal sculpture by artists Kari von Wening and Jan Bush, titled Luna Moth.
Study this sculpture carefully and use your imagination to interpret it into a floral design. By interpreting this moth sculpture into a designs you are proving inspiration can truly be found anywhere! I think there are tons of aspects to this sculpture you can emphasize. The cascading lower wings.. the long, fuzzy antenna… the possibilities are endless!
We cannot wait to see what you come up with!
HOW TO ENTER:

Entering is EASY! Simply:
Go to our Facebook Page
Post a photo of your design on our wall or email it to mandy@flowershopnetwork.com
Be sure to include the name of your shop. (If your shop has a Facebook Page, link it by typing @ and your shop's name)
Please specify it as being an entry to the contest. "My entry for the design contest."
Include a brief description of your design and how it was inspired by that week's challenge (Optional)
WINNERS:
(This has changed a bit since the last contest)
You have one week to create and enter your challenge arrangement. Then, there will be two types of voting — think Idol. Round 1 is open public voting on our website for your top 5 finalists! Then those finalists move on to Round 2 where our FSN Design Team will judge them based on creativity, style and how well their design interprets that week's inspiration.
How the judging works: Our design team will score each finalist on 3 categories: style, creativity, interpretation.  Each category is worth 20 points for a total of 60 points. If you have any questions, feel free to email me at mandy@flowershopnetwork.com
Timeline:
Contest Begins (Friday)
One week to design (Friday-Thursday)
One week to vote (Friday-Thursday)
Winner Announced/New Challenge Begins (Friday)
Each winner will receive a great FSN tote bag and awards certificate, plus a special feature on our blog with their arrangement and a link to their shop's website! They will also be promoted on our Twitter and Facebook for one week. After 6 challenge winners (August) we will have a Tournament of Inspiration and our top winning designers will compete for a grand prize! (More on this later)
You are allowed to enter the weekly contests more than once, but only entered as a Grand Prize Finalist once.