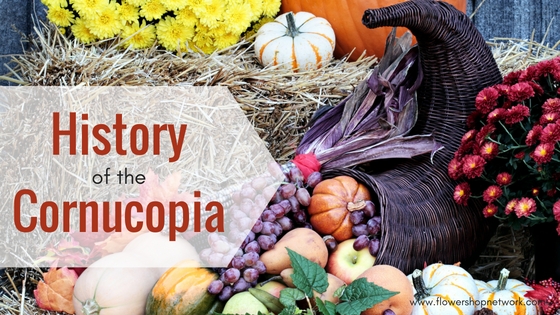 The cornucopia is a cultural icon used in decorative flower arrangements around Thanksgiving. This holiday staple is more than just a classic centerpiece. Keep reading to take a glimpse into the past and see why this unique item has become a symbol of our thankfulness in America.
It Starts With the Greeks
The cornucopia is also known as the Horn of Plenty and is a hollow, horn-shaped wicker basket. It's typically filled with various vegetables, seasonal fruits and flowers. In America the cornucopia is always associated with the Thanksgiving holiday, but it was actually around long before Columbus reached these shores.
In one Greek myth, Zeus was sent to hide in a cave so his cannibal father couldn't eat him. While hiding out in the cave, a goal named Amalthea watched over Zeus and as she was nursing him, he accidentally broke off her horn. To make it up to her, Zeus promised that the horn would always be filled with whatever her heart desired. Greeks came to associate the horn with fertility, good fortune and abundance.
What It Symbolizes Today
Throughout the years the cornucopia has been used at festivals representing abundance and nourishment. The cornucopia stands as a symbol of prosperity being the coat of arms of Colombia, Panama, Peru, Venezuela and even appears on the state flag of Idaho. It has also been said that the cornucopia is lucky and will bring future wealth.
This Thanksgiving use a plentiful cornucopia overflowing with fresh flowers to decorate your table. The sweet fragrance will fill the room and it will be a nice reminder of the ways that your family has been provided for over the years. Use the centerpiece as a conversation starter and go around the table saying what you are thankful for.
Find a florist near you to order your festive Thanksgiving arrangement today!