It's almost time for PROM again! Time to find flashy dresses, sparkly jewelry, the perfect shoes and, of course, the right corsages to bring it all together! Let's take a look at some of this year's trendiest styles.
Fun & Playful
Unlike a wedding, and most other occasions to wear formal attire, prom is about happiness, hilarity and hoopla. This prom goer picked her favorite flower – Gerbera daisy – and the florist has enhanced it with additional white petals, wire and charms. Choose flowers and colors that match your dress.
Anther prom going teen has used daisies in a different way – LOVE those feathers! The big gem in the center is also a great look! Your florist can do way more than just a corsage at prom! Be sure to ask about matching hair accessories and other prom flower accessories.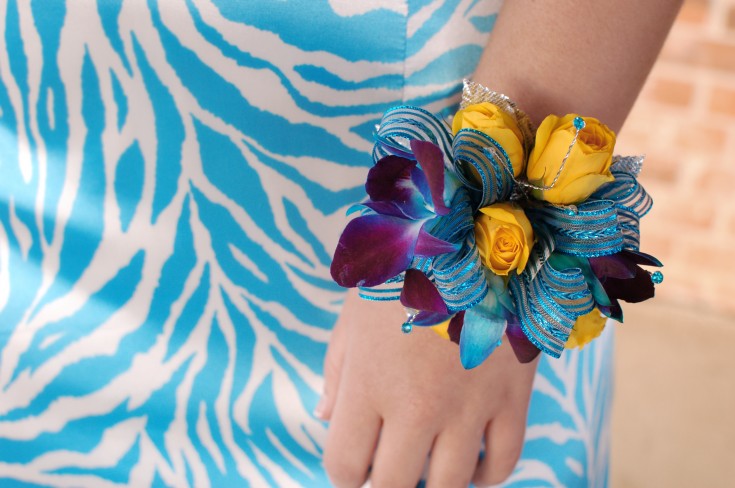 Color Focused
Use your corsage as an accent to enhance your prom look. If possible, show your florist a photo of the prom dress you are wearing and have them create a corsage to bring out the colors and features of the dress. For instance, in the photo above, this prom goer is wearing a super-fun, blue zebra print dress. The florist has done a great job of choosing flowers in colors that really POP, but also perfectly match and compliment the dress!
Stay Classy
If you do go for a classier look for prom, a more traditional corsage is in order. This prom going teen was wearing a beautiful ivory dress with shimmery gold and blue designs. This corsage perfectly matches the dress without going over-the-top. You can never go wrong with white roses.
Wild For Wire
In recent years, wire has become one of the trendiest accents of prom corsages. Wire adds a whole lot of flair and will last as you dance the night away. This florist went above and beyond and crafted a wristlet specifically made for this corsage. The boutonniere has not been left out, it's also been accented with silver and black wire.
Flower Power
This trendy teen was wearing a dress completely made out of different colored sequins (as you can kind of see behind the corsage). This inspired the florist to go crazy with the colors and flowers of the corsage. She matched the many different colors perfectly and stuffed them all into the wrist corsage. Because these small flowers are so compact, it really gives the same effect as the busy sequined dress. Not only can your florist match the colors and styles of your dress – but the textures too!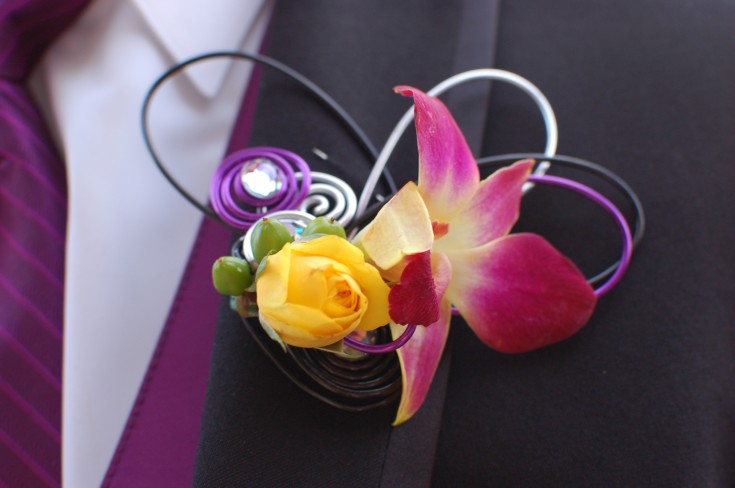 Trendy Tropicals
This trendy prom goer is wearing a long black glove to complement her dress. The dress is black with bright purples and pinks, and she uses the corsage to add color to the black gloves. The corsage uses wire that runs right up her arm! The colorful wire, sequins and charms are a great addition for adding BLING. She has also chosen to use yellow roses and pink and yellow tropical orchids. The details of these prom accessories really take it to the next level.
In addition to the excellent corsage, she has added a unique accessory to her hair that matches the corsage's wire and flowers. We love it! Plus the date's boutonniere is another perfect match – way to go girl!
Over-The-Top Style
These trendy florists have really out done themselves on these corsages. It's absolutely amazing how they get all they do into these tiny little packages. The first corsage has such detail it's hard to see it at first glace. You've got wire, ribbon, flowers, berries, gemstones and even a fiber optic light! WOW!
The second corsage featured above is also jam-packed with trendy fun: wire swirls, zebra and polka dot ribbon, flowers, feathers and gemstones. These styles are absolutely amazing!
Whatever style you choose for Prom 2012, always always always use a real local florist to create it! Also, for best (and most stylish) results, go with your date to pick out your corsage.