Flower Shop Network was out and about once again this past weekend at the Tennessee State Florists Association Convention! We hobnobbed with the locals, touched base with a few old friends and made a number of new ones. If you missed this year's fair, have no fear, FSN is here! We took an unofficial poll, of ourselves, and the group consensus was that a great time was had by all. Apparently those Tennessee folks know how to put on a party so whatever you do, don't miss out on next year.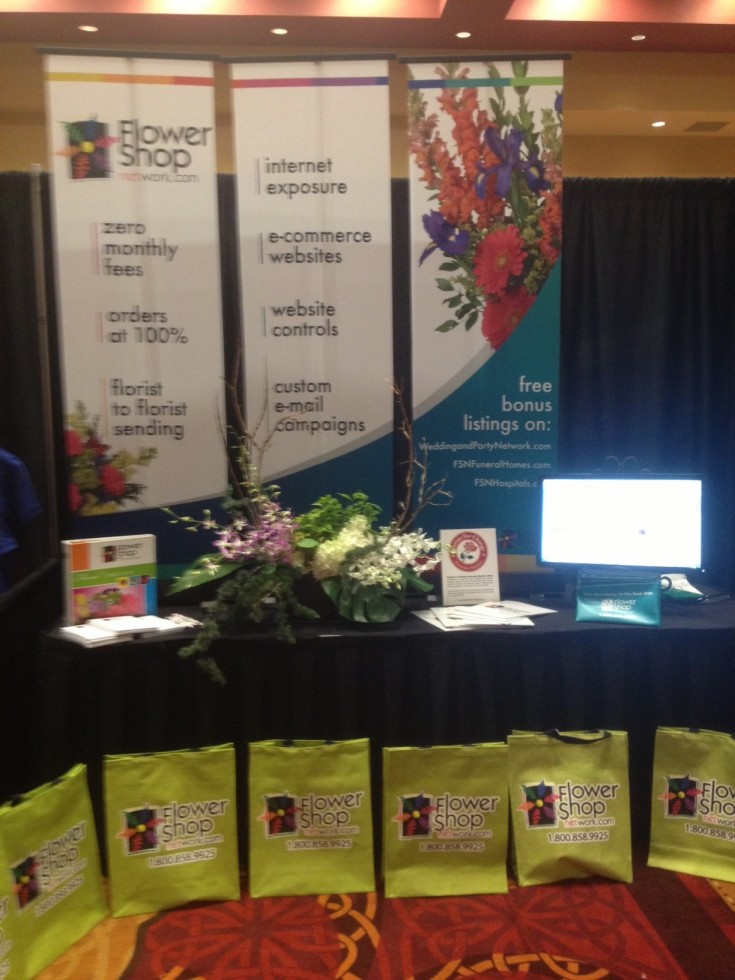 Here we have a nice shot of the FSN booth. We always try to do our part to beautify the vendor floor.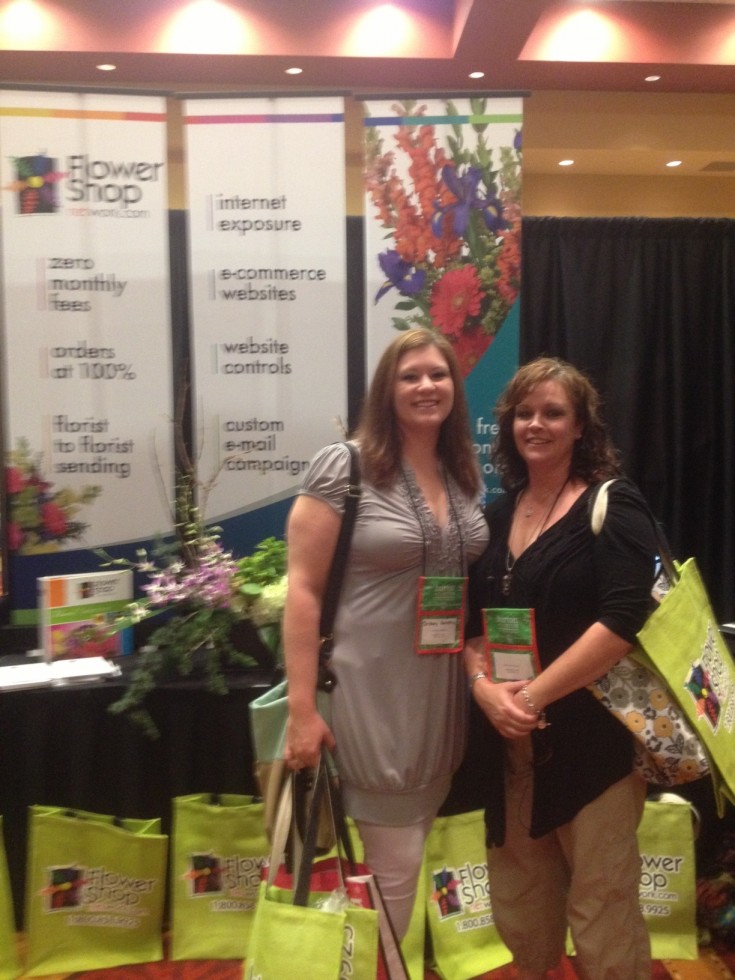 We are always happy to see our members stop by the ole booth and say hello. Hello, ladies! Looks like they've been stocking up on some freebies, eh? Wait, why didn't anyone bring me some freebies? Man …
This was a gorgeous arrangement, created by Regina Berryman, and presented at the FSN booth. I think the picture pretty much speaks for itself. Amazing! That Berryman lady sure is talented!
That's enough from our booth, lets take a tour around the main floor …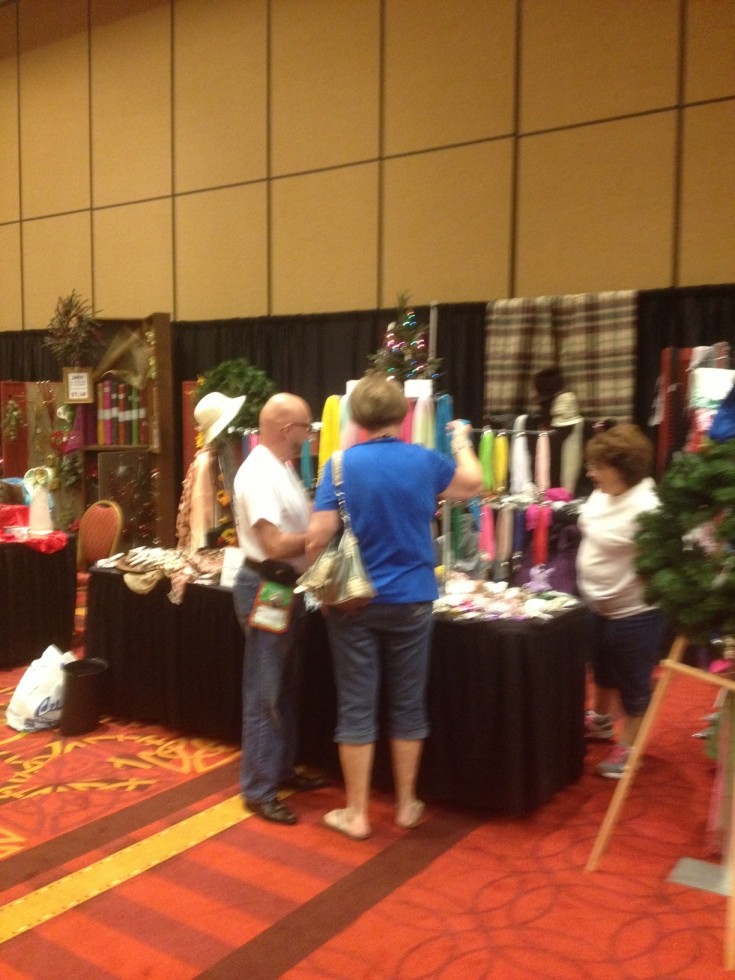 A couple browsing through some of the other excellent booths at the fair. Looks like there are some Christmas items on display. Five months out isn't too early to start promoting this particular holiday, right? Right?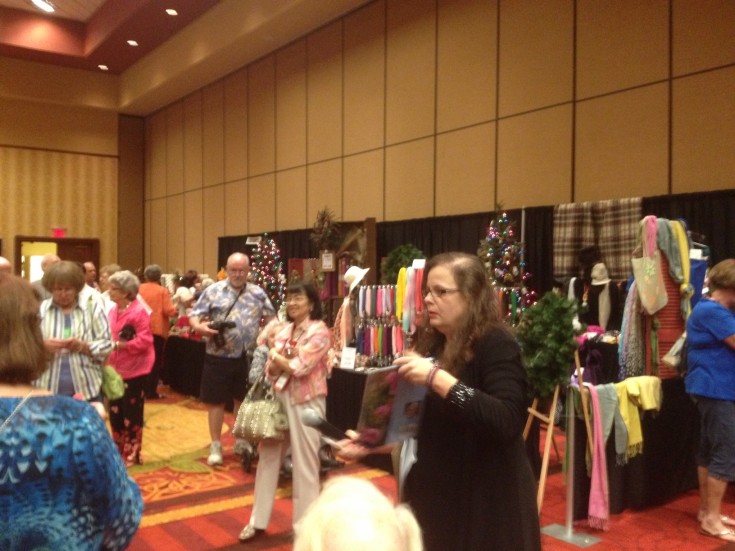 Another angle on the same booth. Man, this floor is crowded!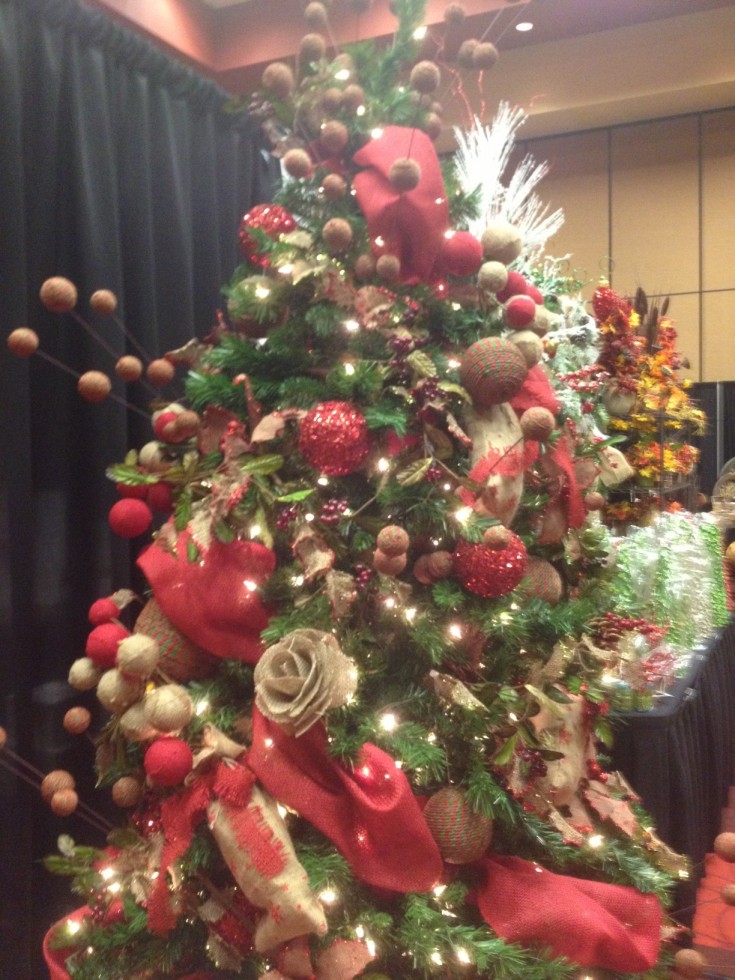 You guys were so excited about that last Christmas photo, we thought we'd toss out another. Looking good!
Alright, who keeps taking these? Whoa! Extreme close-up! Wait a minute, is that a rose made out of burlap cloth? Awesome!
Now those are gorgeous! Not sure if you can tell, but there are two different arrangements there, placed in such a way that one seems to be growing out of the other. Excellently done!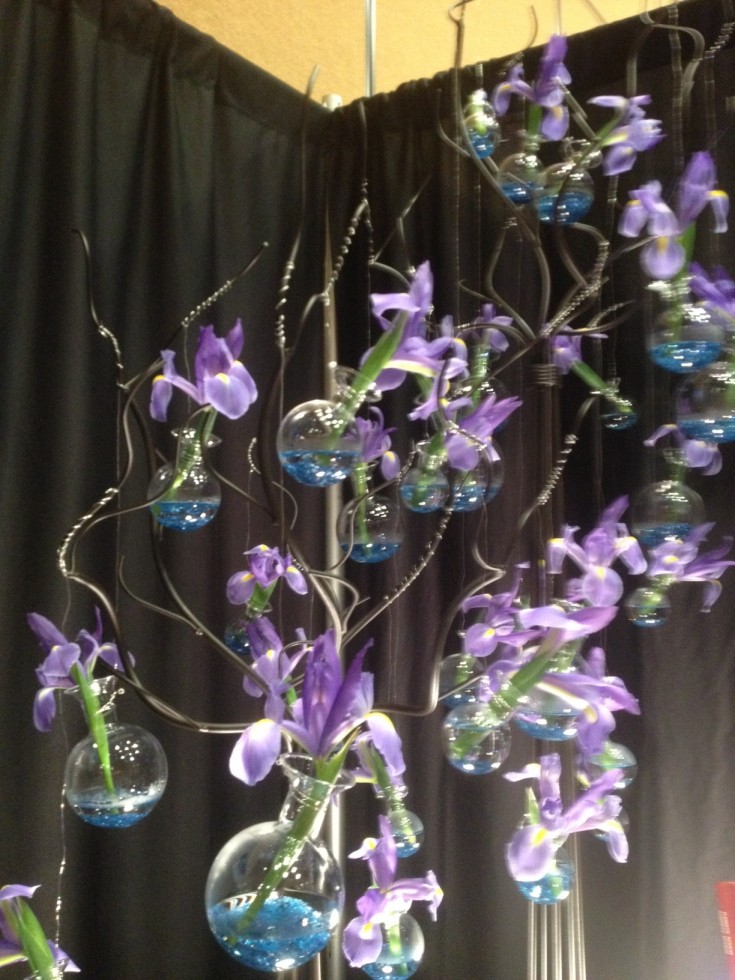 Okay, now that's just cool. Each Iris has its own water source hanging from the display!
This was a nice display arrangement. I think it's well placed. Even the light fixture seems to accentuate the original concept. And who doesn't love a starry, disco ball? Who?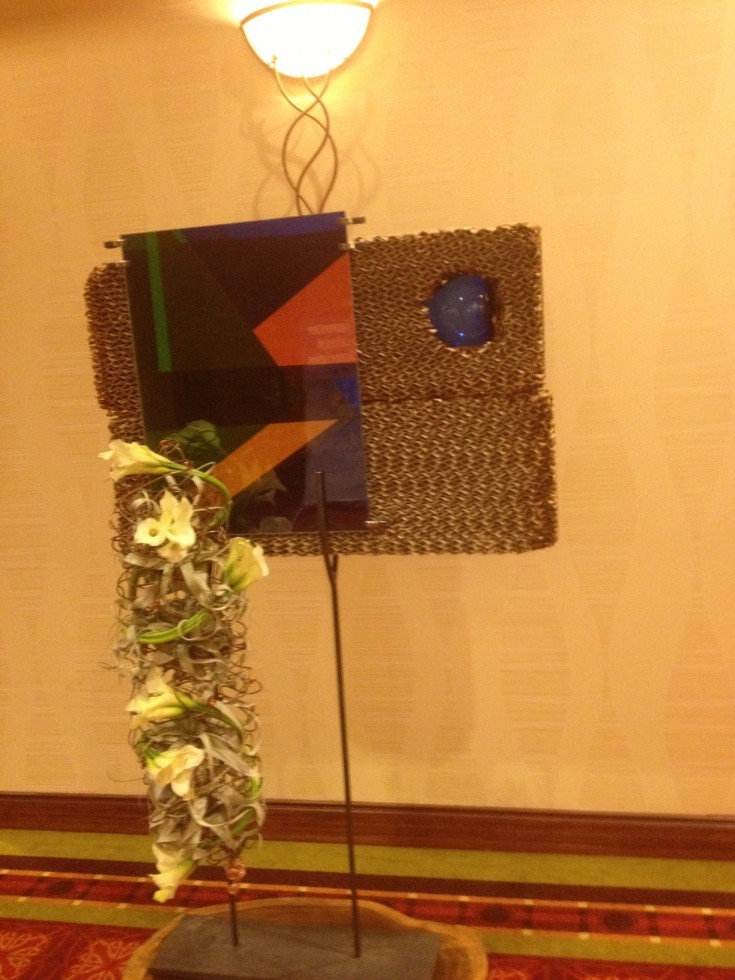 An entry for the Iris Cup competition at the TNSFA convention! Very nicely done!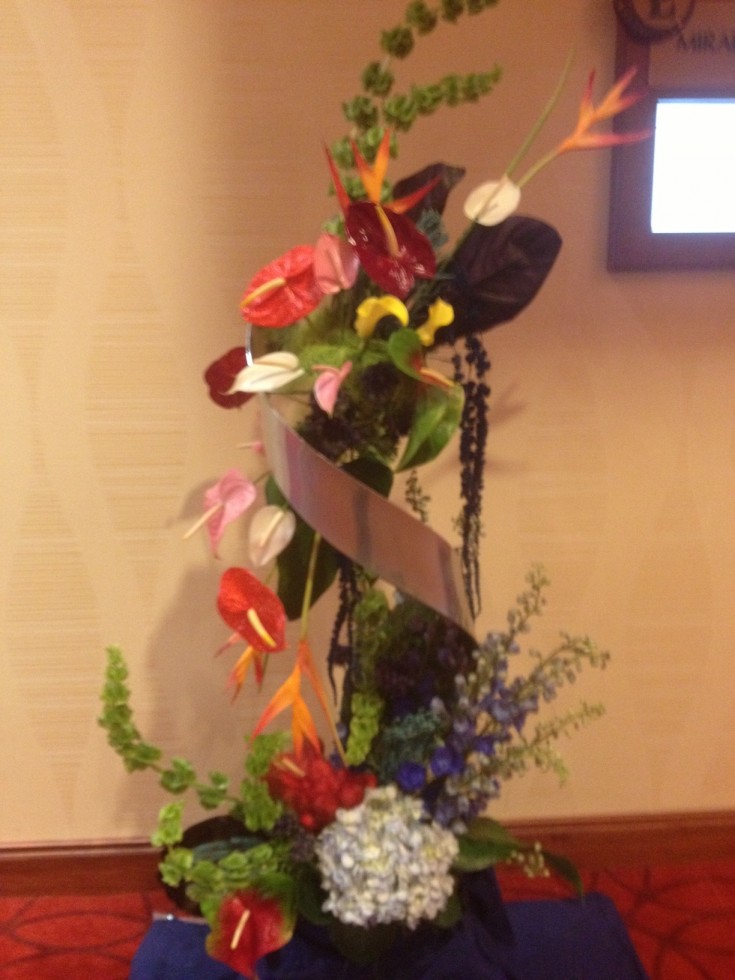 Another entry in the Iris Cup competition. Beautiful! If you're confused, the Iris Cup is so named because the iris is the State Flower of Tennessee, not because it requires the florist to work with irises. A little trivia fact coming your way, the iris was named the state flower in 1933. Admit it, you're impressed I knew that aren't you? (In the interest of full disclosure, I should mention that I'm typing this on a computer with internet access. I'm not saying I looked it up, but I'm not saying I didn't either.)
Last, but certainly not least, is a photo of FSN member Sam Crimm and his mom Charlene! Sam is the proprietor of Crimm's Florist and Greenhouses which can be found in Tullahoma, TN, and he won the FSN  door-prize giveaway filled with a plethora of florist-themed goodies!
Well, that does it for this post on the TNSFA convention, but stay tuned in the coming days for an addendum to our introductory post regarding Regina Berryman's talk, and a nice write-up of the TNSFA Table-top Competition! And don't forget to sign up for next year's TNSFA convention. We can't wait to see you there!