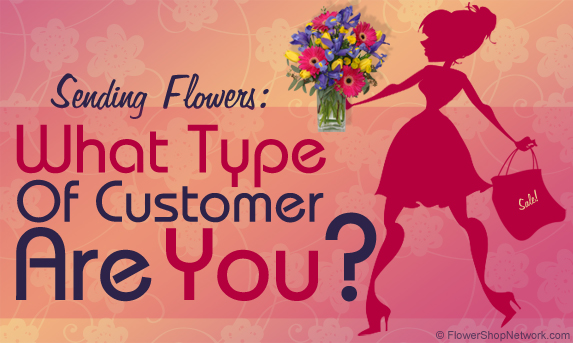 When ordering flowers, it's often for a special occasion or well wishing. For romance, birthdays, get well soons and even condolences, flowers are always intended to lifting the spirits of the recipient.
Sending Flowers? What Type of Customer Are You?
You know exactly what you want and won't stop until you've got it. Perhaps the person you are sending flowers to has a favorite flower that must be used. Maybe you have a specific centerpiece idea in mind and you must have it. Whether you are shopping in store, online or on the phone, make sure to ask about the specific items your arrangement must include.
A florist keeps a good amount of flowers in their cooler at all times. However, they can't possibly have them all. When ordering flowers from pictures, such as on a florist's website, sometimes substitutions will be made if the florist doesn't have a particular flower. Same goes for vase style, ribbon, etc.
How To Get Exactly What You Want:
Call! To make sure the specific flowers/vase/etc you want get used in your arrangement, call and ask if they have them in stock. If they don't have them in stock, the florist will explain what will be used to substitute, or how long it will take to get your full request in stock. If you are ordering specific flowers for an event, this is why it's best to order in advance.
The General-Idea Customer
You have an idea of what you want, but haven't quite put your finger on it. You know you want flowers, you know what the occasion is, but you don't know the first thing about floral design, so you're just browsing.
Talk to your florist. Explain your situation and the purpose of sending flowers. If the flowers are for a gift, give the florist more information about your recipient: their personality, their style, favorite colors, etc. A florist loves the challenge of creating something unique and special. They will be more than willing to work with you to choose the very best flower arrangement for your needs.
How To Get Exactly What You Want:
Call or visit your local flower shop for personalized help from your florist. Together you can come up with the perfect arrangement for any occasion.
The Just-Looking Customer
You need decorations for your event, or you're looking for a gift for someone. Flowers seem like a good idea, but you aren't quite set on them just yet. Your hoping that by visiting your local flower shop, or browsing their selections online will spark some sort of inspiration.
You're on the right track, but a florist can create tons more unique and beautiful designs than just what's listed on their website or on display in their store. Again, talk to your florist about what you have planned and see what suggestions they have for you. Might be surprised by their out-of-the-box, creative take on the event or occasion.
How To Get Exactly What You Want:
Talk to your florist! Share your ideas and listen to theirs. They will help you narrow down your ideas and set you on the right track for finding the perfect gift or decor for your situation.
What ever type of customer you are, it's so important to buy LOCAL! Flower Shop Network is an advocate of local florists everywhere. Use our handy local florist finder to find a flower shop in your area and get started shopping!