We just found this great video from back in 2007 that features one of our member florists and thought I'd share! Meghan Carter, host of Ask the Decorator visits with Vickey Wenshrup of Amelia Florist Wine & Gift Shop in Amelia, Ohio to learn a few DIY flower arranging pointers.
Don't miss the video at the bottom of this post!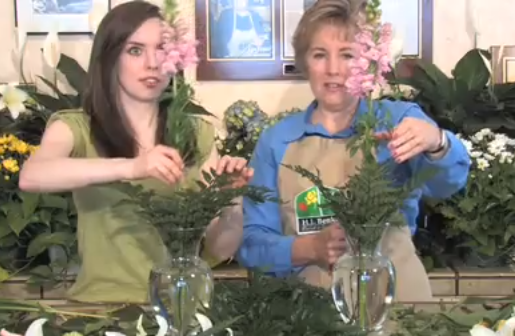 At the beginning of the video, Meghan asks, "How hard can it really be to make a floral arrangement?" By the end, she adds, "flower arranging isn't as easy and you would think!" There is a whole lot more that goes into flower arranging that just putting flowers into a vase. Florists are truly artists, but also have to be meticulous in their efforts to keep your flowers lasting as long as possible. Sure you can DIY a flower arrangement, but for the absolute best results, give your local florist a call!
If you're interested in DIY flowers, keep an eye out for workshops available in your area. Florists all over the country offer flower arranging classes where you can learn the ins and outs of creating flowers.
Step 1: Choose your flowers
Most florists will sell flowers and greenery by the bunch. If you are interested in creating an arrangement yourself, your local florist is your source for quality flowers.
First, choose textures first to add depth and interest. For your main flowers, choose a variety of textures and heights to make it more interesting. Any colors will work, but you might choose to work with monochromatic flowers (all the same color) or a specific color scheme.
Step 2: The Greenery
Adding the greenery to the vase this helps flowers to stand up easily. Remove bottom leaves from your greens to keep them from soaking in your water. Cut the bottom stems of your flowers and foliages at an angle to increase water absorption.
Step 3: Adding flowers
Add flowers to your vase with greenery. Use an odd numbers of flowers, this typically looks better than even numbers.
Add the main, structural flowers first for height then fill in. If your arrangement is going to be viewed from all sides, or in front of a mirror, create a dome of flowers with the color continuing all the way around. If you are only going to see it from one side, place the majority of your main flowers facing forwards.
Step 4: Adding filler flowers
Filler flowers are usually shorter flowers with more textures. Add these fillers to balance the arrangement on all sides. Vickey explains how traditional florists tend to follow the rule: an arrangement should be 1½ the size of the container, but florists now days do whatever feels appropriate.
Step 5: Spilling fillers
A few spilling fillers under your arrangement gives it depth and makes it look fuller. Spilling flowers are flowers or greenery that droop down, away from the arrangement.
Step 6: Making flowers last
When you are done arranging, take the flowers out and replace water with fresh water and flower food. This will ensure your flowers last as long as possible. Why flower food? This specially prepared mixture not only feeds your flowers, but is effective in killing the bacteria that can multiply in your water, decreasing your vase life. (More flower care tips)
Not as easy as you think, huh? There are so many decisions that go into creating something truly special. Now for the video!