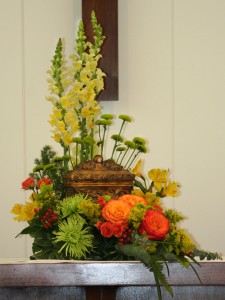 The iconic, casket flower arrangement has become a staple in our funeral flower traditions. Open or closed casket, the large spray of lush flowers and foliage has a way of calming our spirits in a time of loss. Beautiful flowers have a way of enhancing the atmosphere at somber events. Additionally, it gives guests something to talk about that is comforting and uplifting.
But what if there is no casket?
What if the deceased chose to be cremated, can you use flowers on a funeral urn? Absolutely! Florists everywhere are creating magnificent floral displays for funeral urns that are equally as impressive as the traditional casket spray.
Cremation flowers can be personalized to celebrate the life of the departed by using the their favorite flowers and colors. Incorporate favorite hobbies and pastimes into your flowers. If they were an avid gardener or loved to fish, use some of their equipment within the flowers to better represent them. Treat flowers for cremation urns just the same as you would in planning for casket flowers.
Below, Robbin Yelverton of Blumz… by JR Designs in Detroit & Ferndale MI walks us through creating flowers for cremation urns.



Video Transcript:
Hello, I'm Robbin Yelverton on behalf of Flower Shop Network.
Today we're going to talk about a subject that some florists are finding a little challenging to deal with, and that is how to design funeral flower tributes for cremations.
The way we have to handle cremations is slightly different, because instead of a casket, in most cases, the remains, or in this case, and it is best to use the correct terms when working with clients, is cremains — the cremated remains of the loved one.
And these cremains are placed within containers. Typically this has been an urn, or a lidded box. Either way, it just acts as a repository for the remains of the deceased. What we have to do as a florist is create a sense of rest, repose, calm, and we use flowers to enhance the setting. Funerals that do not have flowers very much look very somber. It does not help with the spirits and the emotions of the family. So we are trying to create a setting that is restful and peaceful. So keeping that in mind, we do designs that are more restful in shape. A lot of times it's simply a tray, foam on top that the urn or box sits on top of. Very similar to the setup for a holiday hurricane candle. The difference being, of course, we don't have the candle in the center, we have the urn or the box on top. If it is a nice container, you want to make sure you protect that you protect the foam and box with either foliage or  plastic underneath so that the water doesn't come into contact with the box or urn.
Then we base our urn with flowers, remember some of the techniques, such as sheltering — which is a wonderful word to use in funeral work, or shadowing over, think of it as arms around someone to protect them or give them a hug to help them through a bad moment.
So in this case we are placing flowers at the base to frame or to shelter the creamains and the urn or box. We are going to do a few things here, placing some flowers. Just follow what we're doing. First we've based the container with foliages, in this case we have a graceful line cascading. It's sort of like sometimes we create a casket piece, but in this case the casket is literally inside the design instead of the design sitting on top of the casket. We're going to create a focal area of flowers here, something here to shelter and protect, and that will create our design.
[Robbin adds more flowers to the design]

Here you can see the main focal areas of the design. The prominent spot being here at the base and to the right. Generally people go from left to right when reading and when looking at things. We start at the top of the design with our lines created by our snapdragons, coming down to the main focal area which is also our balancing point where the box or urn is placed. We have our main flowers featured here, face forward to draw attention. We've accented it with line material and placed some secondary flowers in the back and we'll be filling in around this. And a little bit of hypericum to add a wonderful touch of coral around the arrangement. Now lets add the rest of the flowers.
[Robbin adds more flowers]
The most helpful thing when creating an arrangement for cremation, is to find out the size, shape and type of container that they'll be using for the cremains. Obviously the design has to be built around this, so that is very important. The next thing is determining what style of arrangement you're going to do. In this particular design, we've used a simple tray, it can be like a lomey tray or a dish that a block of foam has been placed in, it's been surrounded by foliage and the box sat onto of it with flowers based around it. If you were wanting to present it in a different form, this could be done with a wreath, where the urn can sit in the center of the wreath as a memorial. The other option would be a garland of flowers, which would drape across the table or alter, depending on where the service is, and then down the front of it. What we've made here is basically an L shaped design, to complement the box and it's styling. I hope this helps you with your designs for your clients for cremations.