August Heat!
Our August newsletter is all about celebrating summer while it's still around. We are showcasing the hottest color trends for the dog days of summer, ideas for heating up your romance, and much more!
Hot Flower Ideas For August Birthdays
Sending flowers to someone on their birthday is always a special surprise! Gazing at beautiful flowers will create birthday memories to hold close to heart, especially if your recipient works at a desk job. There's nothing better than having your beautiful birthday gift greet you with it's bright and cheery colors every morning as you walk into your office. It's like celebrating a birthday week instead of just a birth day!
Our guide to August birthday flowers shows you the best options for August flowers. Choose your flowers based on the color of the month, flower of the month, color of the birthday week, and more!
Read More About August Birthday Flowers…
---
Yellow –

Sizzling Color Trend For Summer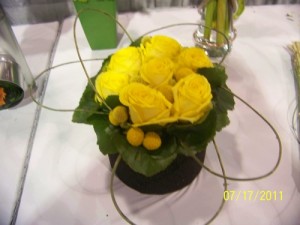 YELLOW was definitely the hottest trend for floral designs at the Texas State Florist Convention just a couple of weeks ago. So many designs used the color, and why not? Yellow is the perfect color for summer! Sunflowers were one of the most popular flowers used.
Brighten up any space with a bouquet of yellow blooms! Trendy yellow flowers keep us in a cheery mood, and are perfect for sending as a quick pick-me-up to someone who may be feeling a little blue. So give your local florist a call, and order a bunch of brilliant yellow blooms for yourself, or a special friend.
Read more about Yellow – Hottest Flower Trend for Summer…

---
Spark Romance With Fiery Red Roses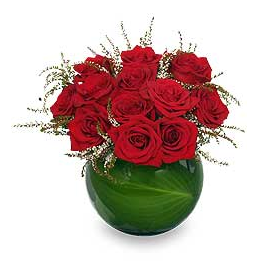 For most gals, nothing is more romantic that fiery red roses. Just the sight of a florist bringing a bouquet of red roses into the door is enough to get every lady in the office's heart pumping! Of course, when they finally sit the roses on one lucky girl's desk, everybody's there waiting for the scoop. "What's the occasion?", "I didn't know it was your anniversary!?"
Of course the BEST response is when your honey sent you roses JUST BECAUSE! Romance does not need an occasion. Spontaneously getting roses is one of the sweetest, most thoughtful gifts anyone can give.
Read more about Sending Romance With Red Roses…
Flower Arrangement of the Week on Facebook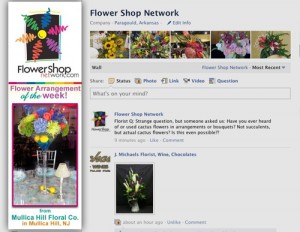 We are very excited to start a new fun feature of our Facebook page. We know how much florists and flower lovers enjoy visiting our Facebook page for inspiration and ideas, and to encourage this, we are beginning a new weekly feature — Flower Arrangement of the Week!
For the new Flower Arrangement of the Week feature, we are asking our florist friends to share the favorite designs they've created during that week on our Facebook Page. Every Monday, we will pick one of the photos to use as FSN's new profile picture! The flower shop that created the design will be credited in the picture and a link to their website will be included in the caption.
Read More About Facebook Weekly Feature

WE'RE SOCIAL!







Love flowers? Follow us on the above Social Networks! We are always sharing the latest articles from our Bloomin' Blog, as well as the most fascinating news on the net!
Help make Flower Shop Network's monthly newsletter even better! Got questions? Have an idea for a story? With your help, we can make the FSN newsletter just what you want and need. You can drop us a note in the comment section on the blog or email us at social@flowershopnetwork.com. We can't wait to hear from you!