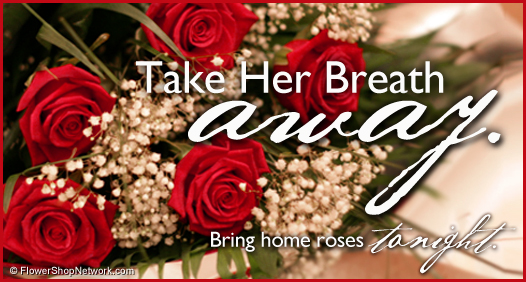 It's not her birthday. It's not Valentines or an anniversary, but it is the perfect day for a little passion. Why? Because any day can become romantic, especially when it's spontaneous.
Take her breath away by bringing home the beauty and romance of roses, the traditional gift of romance. Your local florist will always have exactly what you need to show your sweetie how much she means to you. It's so easy to stop by your flower shop on the way home from work and pick up a bouquet in her favorite color.
You could also choose your roses based on their color meanings, here are a few suggestions to get you started:
Lavender rose – Enchantment
Orange rose – Fascination
Pink rose – Thankfulness, perfect happiness
Red rose – Love, I love you

Red

&

white

mixed rose – Unity
White rose – Purity, heavenly, I am worthy of you
Yellow – Friendship
Away on a business trip? Send roses to show your sweetheart she is always on your mind. Let them keep her company until you return to her loving embrace.
If you need help finding a local florist, use FSN's handy florist finder to find a flower shop near you.